Luxury Countertop Material Comparison: Quartz vs Granite
Your brand new countertop is slated to be the centerpiece of your kitchen remodel. You've planned and you've saved for this, so you don't want to spare any expense. When choosing a luxury countertop, you have two choices: quartz or granite. Both of these materials are fantastic – and they're the subject of today's luxury countertop material comparison!
At Choice Windows, Doors & More, we're home improvement contractors who do it all – for your home's interior and its exterior. When it comes to new kitchen countertops, we proudly install both quartz and natural stone such as granite, quartzite, and marble! To help you decide between these great options, we're breaking down the pros and cons in our countertop material comparison. Keep reading to find the perfect fit for your renovation. However, if you'd rather talk than read, send us a message to start the conversation with our expert kitchen designers!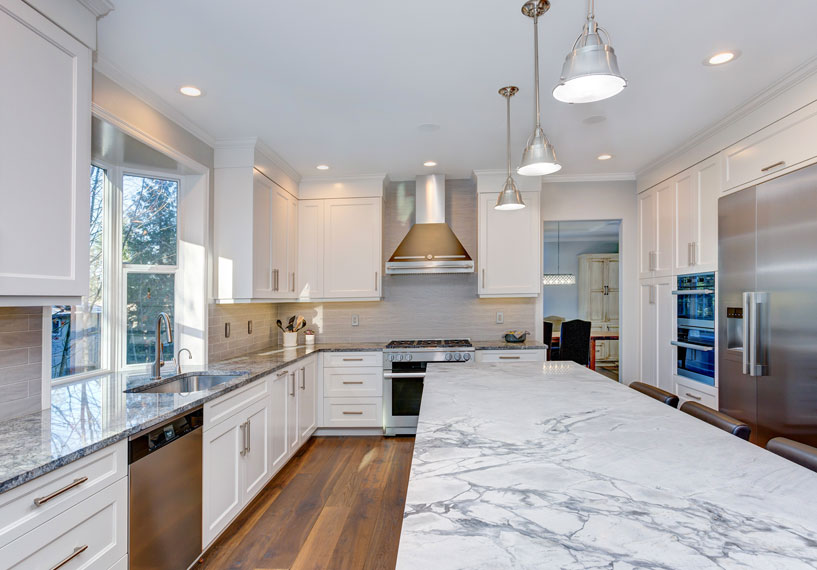 Quartz vs Granite Kitchen Counters
When you choose one of these luxury countertop materials, you can't go wrong. However, there are some key differences between the two leading options that make them even more perfect for your kitchen renovation and how you'll use them. For the sake of this discussion, we're going to group all-natural stone countertops under the term granite. Granite comes from the earth and is a natural product, while quartz is engineered to be amazing using natural stone.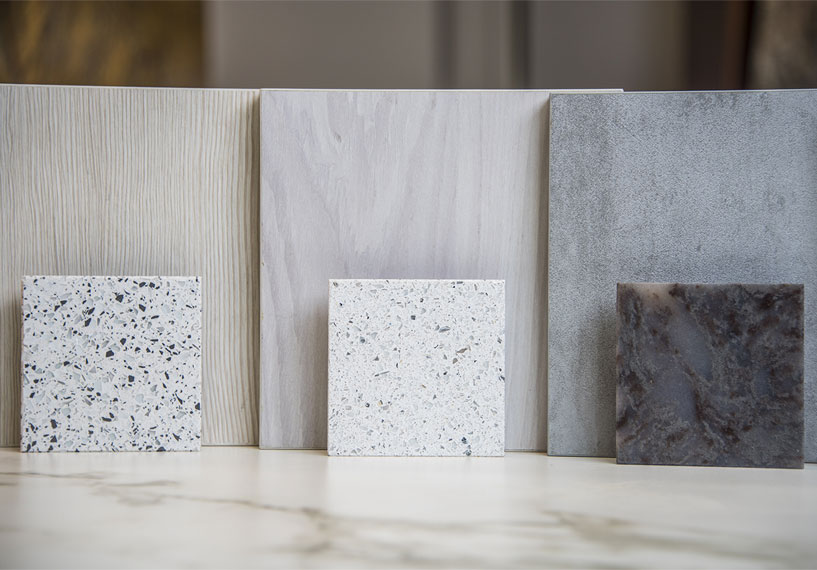 Here's what to know when comparing quartz vs granite kitchen counters:
Maintenance Needs – Let's start with something practical. You know right away that both countertops will look beautiful, but what's the experience of owning them like? Since granite is a porous material, it will need to be resealed every year to protect the stone from stains and bacteria growth. This is a fairly simple DIY project that most homeowners have no problem handling. However, a quartz countertop is non-porous and is essentially maintenance-free!
Heat Resistance – The next point between quartz vs granite countertops is how effectively they resist extreme heat from a direct source. While you want to avoid this wherever possible, it's a good point of comparison to keep in mind. While quartz countertops can be scorched, the damage will be minimal. However, granite wins here as it is even more protected against an even higher temperature than quartz.
Scratch Resistance – Scratch resistance is a tie when it comes to this countertop material comparison. Both of these extremely hard surfaces prove to be effective at resisting accidental surface scratches. In fact, this advantage is one of the attributes that keeps them looking gorgeous throughout their entire lifespan. See our favorite kitchen island designs.
Lifespan – Speaking of which, the countertop lifespan on both of these luxury materials is another selling point. Both your quartz and granite kitchen countertops will provide decades of great performance. In addition, these materials retain their luster for the duration of their lifespan, meaning they'll both look practically brand new for years.
Price – The ultimate winner when comparing quartz vs granite kitchen countertops is less clear. Generally, the cost for both of these deluxe materials starts at around the same price point – and in most cases they stay similar. However, the price of quartz tends to be fixed, whereas the price of granite can be higher depending on the individual slab and pattern of granite you choose. Learn more about planning a remodeling project.
Color and Style – Whichever one you choose, you will likely have the most beautiful countertop you or any of your friends have ever seen. The color and style of your granite countertop will be 100% unique and totally determined by the individual slab you choose. On the other hand, a quartz countertop pattern will be engineered to look like an idealized version of real stone. This difference makes the style of a quartz countertop extremely consistent – while an all-natural granite countertop will be 100% made by nature.
These are the key practical things to decide on when choosing between quartz vs granite countertops. When it comes to the color and style, we recommend seeing them in person. We suggest coming into our showroom to see some of our favorite quartz patterns. Of course, if you do choose granite, you can visit our local granite supplier to find your perfect slab.
Everything Your Kitchen Remodel Needs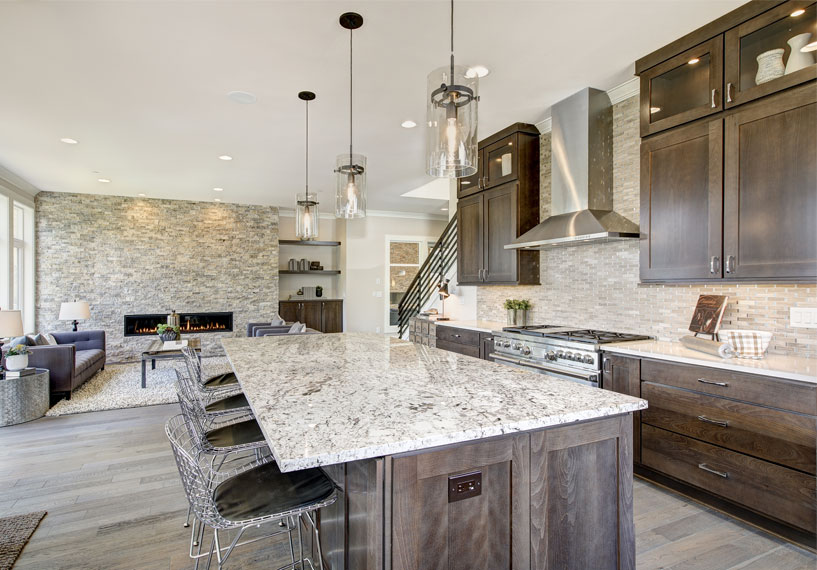 While the kitchen countertop is the centerpiece of many renovations, there are many more key elements to explore. For example, you'll want to tie your countertops into a new sink and equally elegant backsplash. Plus, you'll likely also want to update the appliances and maybe even overhaul the countertops, too. That's why we encourage all of our potential clients to sit down for a conversation with one of our designers. Together, we can refine your style and collaborate on the perfect choices for your home.
Contact us to schedule a free consultation in your home – or at our showroom!
Share This: