Kitchen Island Designs & Uses
In design today, a showpiece kitchen island is one of the most popular and desirable features of kitchen floorplans — and for good reason! From cooking gourmet dinners to sitting and enjoying a glass of wine with friends, a beautiful kitchen island can easily become the center of modern living when properly designed for your life and your space.
As one of Southeast PA's top kitchen remodel companies, at Choice Windows, we design and install a wide variety of islands! Check out our kitchen island designs and If you're planning on a renovation, island or not, consider us the team to call.
How to Get Started on Designing Your Kitchen Island
In the meanwhile, there are a few questions you can ask yourself when considering incorporating an island into your design:
Is my kitchen big enough for an island?
When considering home remodeling, many homeowners wonder is my kitchen big enough for an island. The answer depends on both the size and shape of the kitchen.
While a wide variety of kitchens are perfect for islands, some spaces won't accommodate when it comes to giving you a well thought out kitchen plan. Consider the walkway spaces on all sides around the island, as well as the space required to sit around it comfortably.
When deciding if your kitchen is big enough for an island, we recommend having a minimum 3 feet of clearance on each side to make sure you won't end up feeling crowded. On the contrary, a properly sized and appropriately shaped island can actually make your kitchen feel larger and grander.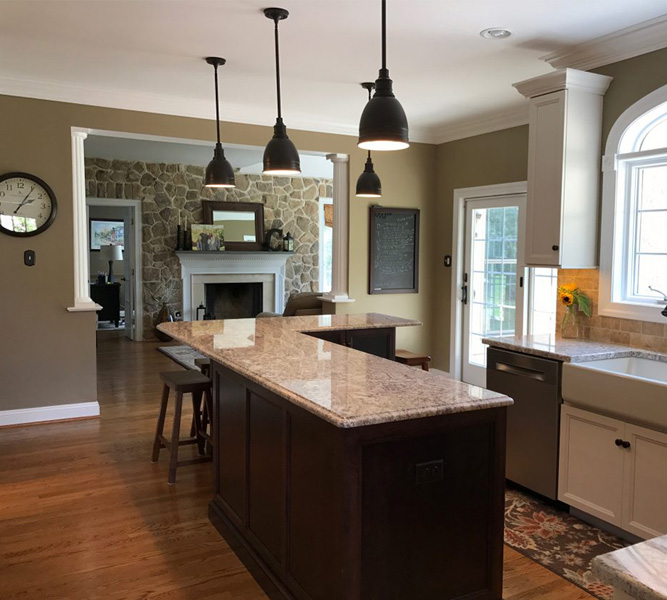 What will be the primary use for my island?
It's a basic principle of art: form versus function. Not only does an island need to be appealing to the eye, but it must be as functional as it is beautiful.
This can mean different things to different people, and one benefit of working with a designer is having an experienced professional to help straddle the line between useful and pretty. A good step toward determining an island design is to figure out what it will likely be used for. Here are a few of the most common kitchen island uses we see:
Eating the majority of meals as a family sitting around the kitchen island is both convenient and practical. A kitchen island can be the functional centerpiece of your kitchen. Just imagine eating Saturday morning breakfast and Chinese takeout all gathered around your showpiece kitchen island.
A well-equipped island can make cooking great for the chef (or two) in your house. Oftentimes the presence of an island in a kitchen can allow for improved flow and room to work. Kitchen islands can come with built-in stovetops, sinks, and microwaves.
Why go out when you have your own luxury space? A two-level kitchen island with barstools is perfect for entertaining your guests. Complement the design with a wine storage shelf and a refrigerator, if that's your thing.
Activity/family gathering
Whether it be homework or another family activity, an island is a great spot to gather.
How should the island visually play into the rest of my design?
From one to two tiers, paints to stains, butcher block tops and everything in between, the way your island looks should nestle in with the rest of your space. This doesn't always mean an exact match to every other cabinet in your kitchen, but an overarching theme that should be maintained. From there, the options are endless.
Dress it up or blend it in, keeping in mind again how you plan to use your new space. Talking to your designer about the pros and cons of different finishes and their wear-ability may help narrow down the multitude of choices.
Kitchen Remodel Experts in Lancaster PA
If you are starting to get a clear picture of your dream kitchen and island, give us a call. We can further work to refine your vision with you. In addition, we can also definitely answer that all-important question: is my kitchen big enough for an island. As one of the biggest kitchen remodel experts in Southeast PA, we can help you design your dream kitchen island and meet your budget.
Contact us to start the conversation today!
Share This: