Picture Window Design Options
For some homeowners, the best artwork isn't a watercolor hung on the wall, but a gorgeous window to the beautiful view outside. Aptly named, a window meant to showcase your outdoor vista is called a picture window. See some of our favorite picture window designs—and imagine how they can transform your home, too.
Picture windows have been a beloved option for several decades, but in recent years, their popularity has exploded. When imagining your dream picture window design, you have countless options to choose from, allowing you to customize the style of the window itself and the décor it creates.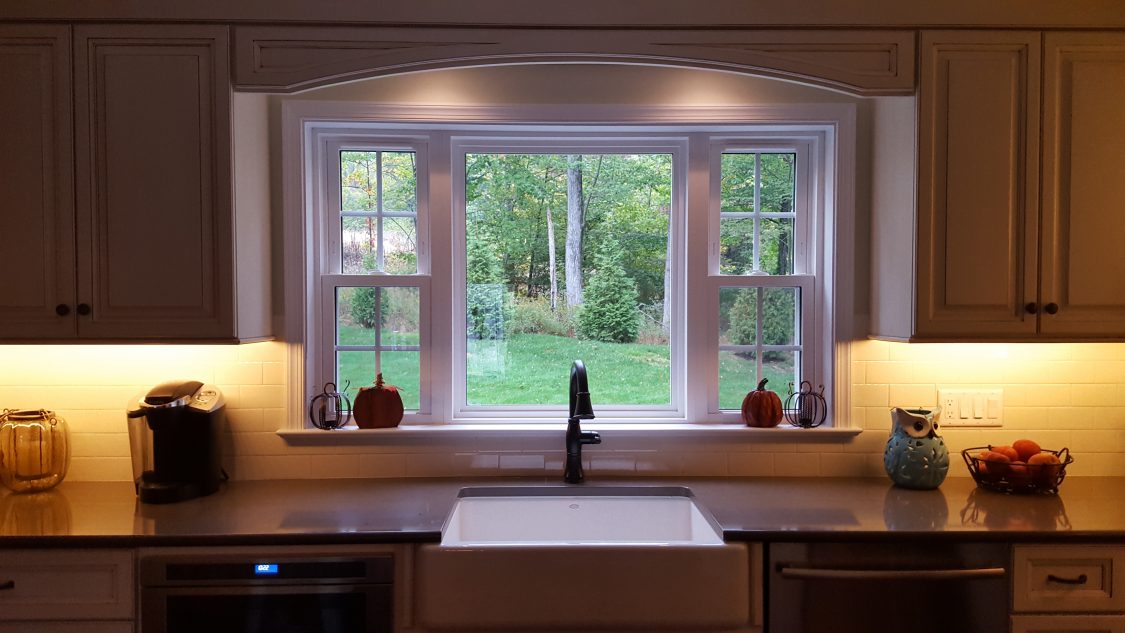 Picture Windows to Get You Inspired
Fire up your imagination with our showpiece designs — and learn why each of these picture windows builds a unique home profile, inside and outside. New windows are a huge component of home remodeling.
Large Picture Window, Flanked by Two End Windows
The tried and true picture window design, this style features a large fixed center window with end windows on both sides. The primary center window provides a completely unobstructed view while bathing the room in ample natural light. The smaller windows— either casement or double hung – are mulled (bonded) onto the main window. This picture window style first appeared in the 1970s and 1980s as a feature on rancher style homes. Since then, it has earned a place in nearly every type of home on the market.
Mulled Together Casement Windows
While the traditional fixed picture windows undoubtedly look fantastic, the only downside is that the largest window can't open. To address that, one newly-popular picture window design features 2, 3, or 4 large casement windows mulled together into one grand focal point. Since casement windows have minimal framing and no horizontal bar, they possess an unobstructed profile. While this design doesn't create as pure of a picture window as the traditional, it does feature the convenience of all the windows being able to open.

Round Top Picture Windows
The most modern style of picture windows, you'll recognize these designs due to the arched panes of glass at the top. This type of picture window shows the greatest diversity as far as width is concerned — some round top picture windows are fairly narrow while others are as wide as a traditional style.  Like all picture windows, the round top style designs are meant to highlight a great view, while bringing more natural light into the home.
Adding a sunroom is another great way to incorporate natural light into your home.
Bay Windows
In a certain sense, bay windows are the original luxury picture window. When used appropriately as part of an in-home décor, bay windows wash a room in natural light and give an unobstructed view of the outside — just like any other picture window. In addition, since bay windows project out at a 30-degree angle they add depth — and extra seating — to a living room. While they have somewhat fallen out of mainstream popularity, bay windows are still the perfect choice for certain designs and many homeowners.
Customizing Your Picture Windows
After you've chosen your window model, you can start customizing the design. A picture window naturally becomes a stylistic focal point — you can truly make it your own.
Some of the most popular options include:
Wood laminate on the inside of window, making the interior profile resemble real wood.
A whole catalog of color palettes to stain the window interiors.
Colonial grids on the secondary windows, which give the appearance of smaller panes of glass.
Prairie style windows which feature a rustic looking perimeter around the glass.

Vinyl Picture Windows
As a style, not a specific product, picture windows can be made of any type of material on the market. However, more than any other building material, we see homeowners demanding vinyl picture windows. In the same way that vinyl is the best choice for most standard windows, they make the most sense for picture windows as well.
Vinyl windows are cost-effective — compared to fiberglass and wood options.
Vinyl windows are extremely energy efficient — when upgrading to new vinyl windows, you'll see both your heating and cooling bills drop.
Vinyl windows boast a wide variety of stylistic choices — vinyl can resemble wood or possess many other styles as well.
Vinyl windows are low maintenance — the resilient vinyl material means you don't need to worry about re-painting or re-staining your windows.
Learn more about the windows and doors we offer.
Picture Window Installers in Lancaster, Pa
If you're feeling inspired by these gorgeous picture window designs, we'd love to have a conversation. Meet our team of window design experts. When you work with Choice Windows to design your picture window, you'll find that we're not just a window sales vendor, but your home décor consultant. We make it our mission to help you have your very own awe-inspiring, showpiece window. Meet our team of window design experts.
Everyone's decor style and needs are different — we help you the style you love and the practicality you need, all for the budget you set. Start the conversation with our window consultants today!
Share This: