Small Bathroom Remodel Ideas for a Huge Impact
A powder room or small bathroom remodel is the ideal place to express your interior design style. First of all, a powder room is meant for your guests — the perfect audience with whom to share your creativity. Second, the smaller dimensions of a powder room make features that would look extreme in a larger space look perfect. That's why we always encourage homeowners to explore all the possibilities with their powder room remodel.
At Choice Windows, Doors & More, we're a bathroom remodeling contractor who does it all. We have years of experience helping homeowners just like you discover their sense of style— and build their dream-come-true renovations. Read our blog to see some beloved powder room ideas that you can bring to your small bathroom remodel.
5 Powder Room Ideas that Transform Your Space
Your old, outdated powder room is a blank canvas for brand new colors and features. Those bold designs you've seen on HGTV, on Pinterest, or at your style-forward friend's house have found their perfect place in your own home, too. These are some of the most interesting powder room ideas that pack a huge impact in a small space.
1. New Fixtures & Vanity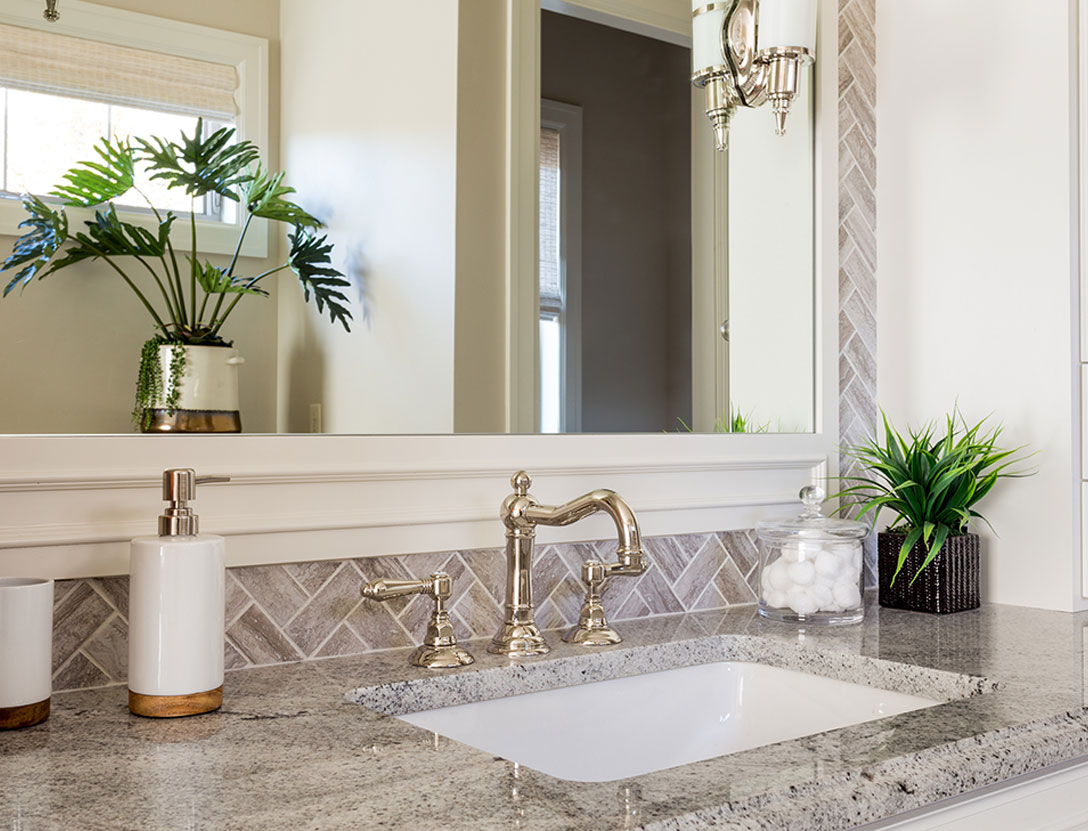 The key piece to a total bathroom transformation. Replacing your old countertop and cabinets with a sleek new vanity ALONE can update the entire feel of your space. A vanity featuring a sink, mirror, and cabinets makes for a space-efficient addition to your small bathroom remodel. In fact, replacing a big and bulky fixture with a stylish vanity can make the small powder room feel bigger and more comfortable. On the other hand, a piece that is too large crowds the limited space. Finally, choosing a dark-colored vanity can actually make the bathroom feel smaller after the remodel – so choose a light vanity to help brighten up the space.
2. Bold Flooring Choices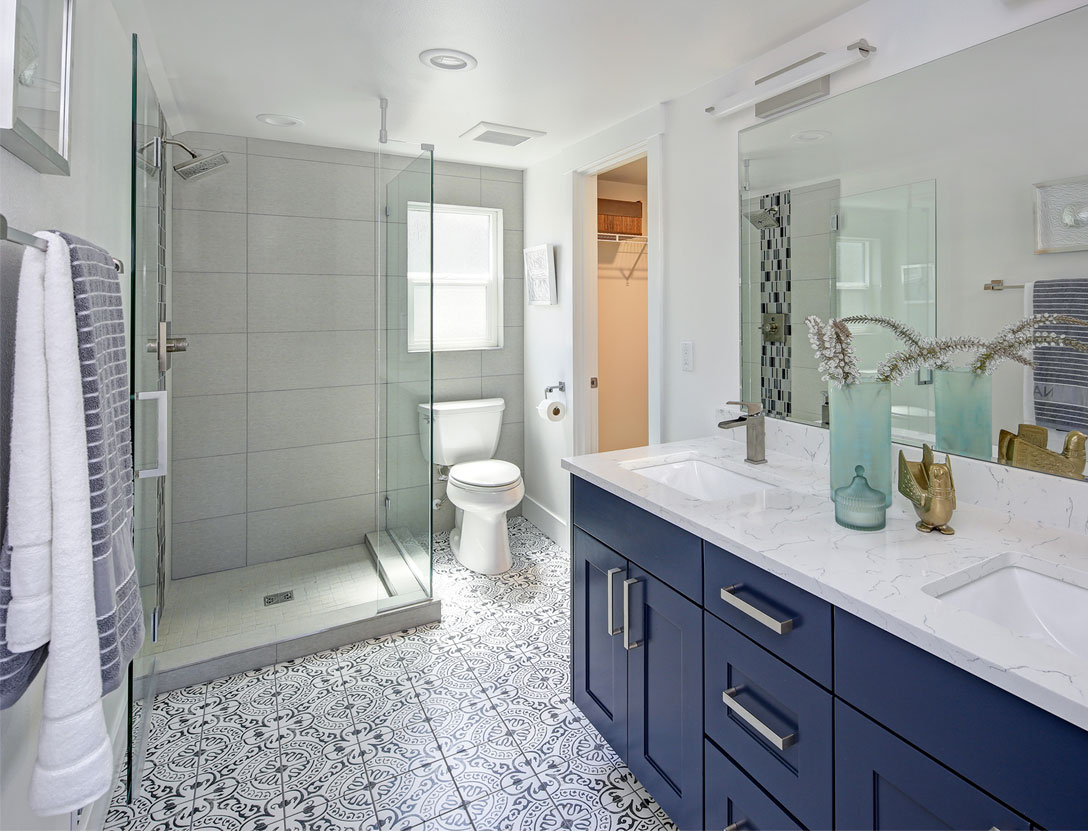 As we mentioned, a small bathroom is one of the best canvasses on which to unfurl your big and bold style. While bold-patterned tiles might look extreme in a larger room, they match well with the small dimensions of a powder room. Upgrading old, peeling linoleum to something like encaustic tile will bring your bathroom style into the 21st century.
3. Wainscoting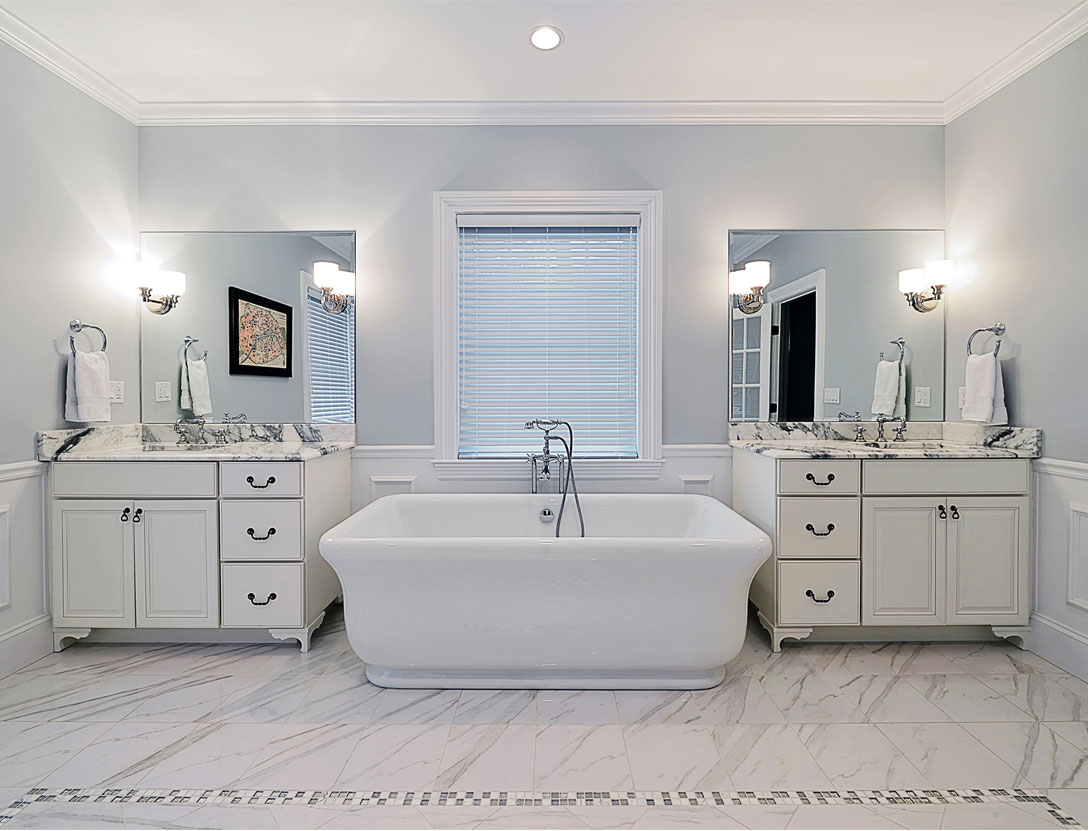 Another creative touch that you can admire in a small measure but wouldn't want to overdo. Wainscoting panels are often used in powder rooms for both practical and stylistic purposes. A wainscoting panel offers a striking contrast to the primary wall color – something that absolutely catches the attention of everyone who uses the bathroom. While the paneling provides the sought-after aesthetic accent, it also protects the bathroom walls near the sink from possible water damage.
4. Lighting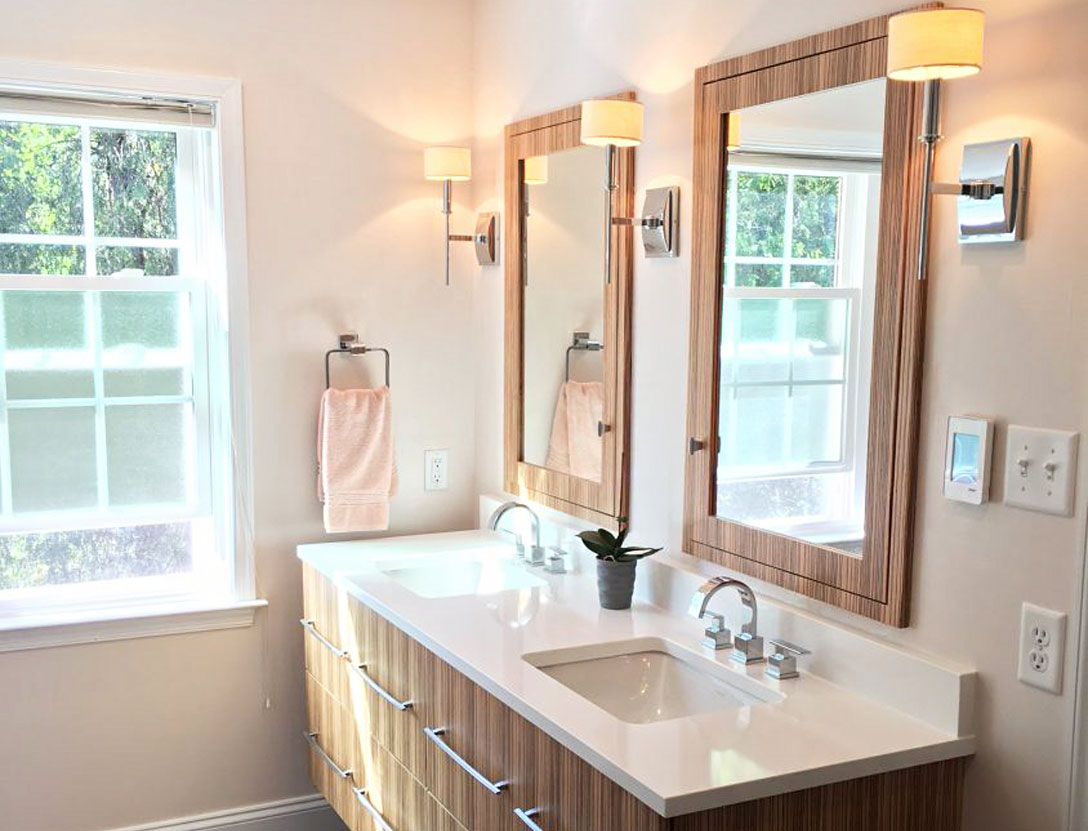 When working on a small bathroom remodel, designing the lighting scheme is of the utmost importance. The primary design goal is to maximize your space by ensuring there is a sufficient amount of light. Homeowners often complain that a too-dim powder room feels somewhat like a cave. When designing a lighting scheme, first consider if there is a natural light source like a window that you can utilize. Then you'll want to place a primary overhead light fixture. Finally, you're free to accessorize with softer, decorative light sources. One of the most common ways to accessorize with secondary lighting is to mount it on or around the mirror.
5. Fresh Paint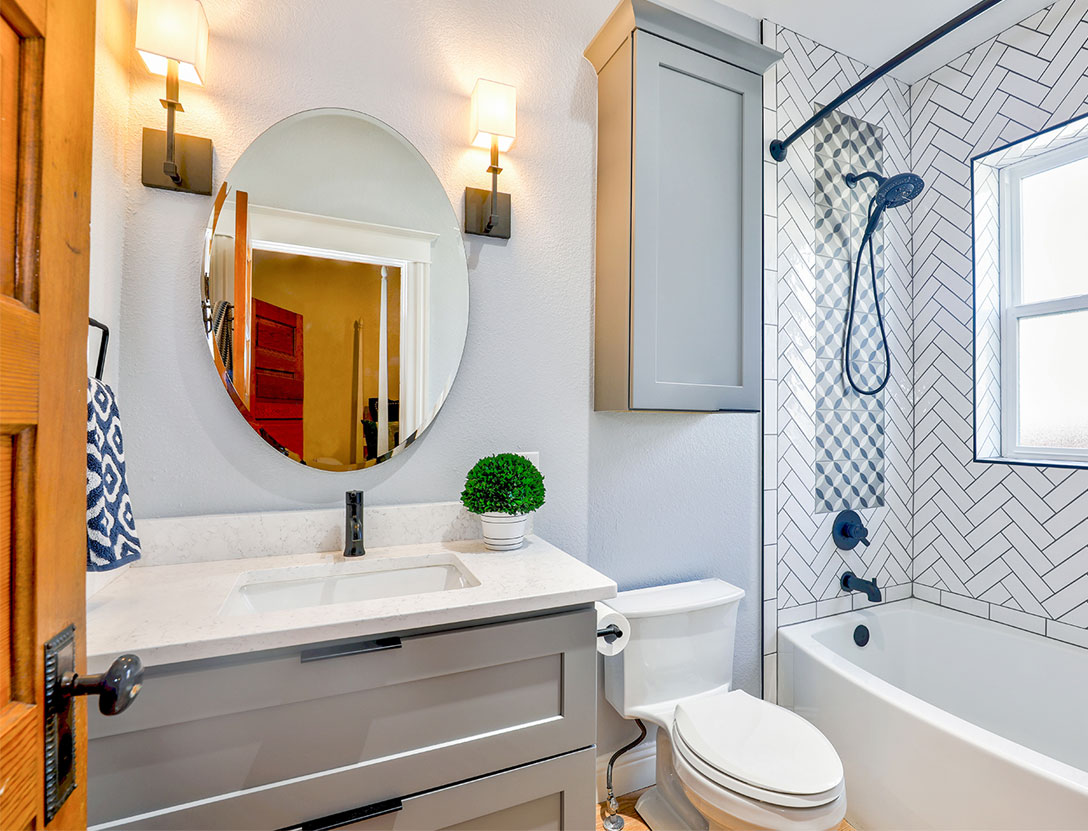 Once you have the rest of your small bathroom remodel ideas in place, you'll want to choose the paint color that ties it all together. A light and airy off-white color is one of the classic choices for a powder room's color — it's hard to go wrong with that! However, if you want to embrace the bold, this is the place to do it. Jewel-toned paint colors like emerald blue are trending right now, and your powder room is the perfect place to incorporate them.
The Full-Service Bathroom Remodeling Experts
Now that you have a feel for the small bathroom ideas homeowners are loving, you need to find a partner to help. At Choice, Windows, Doors & More, we're a full-service home renovation company — and we build gorgeous bathrooms with homeowners throughout Lancaster County and beyond.
While a powder room or small bathroom remodel brings a ton of style and value to your home, some homeowners prefer to enhance their master bathroom instead. We have ample experience building the Jacuzzi tubs and deluxe walk-in showers that make a master bathroom so relaxing and luxurious.
Learn more about the advantages of a luxury walk-in shower.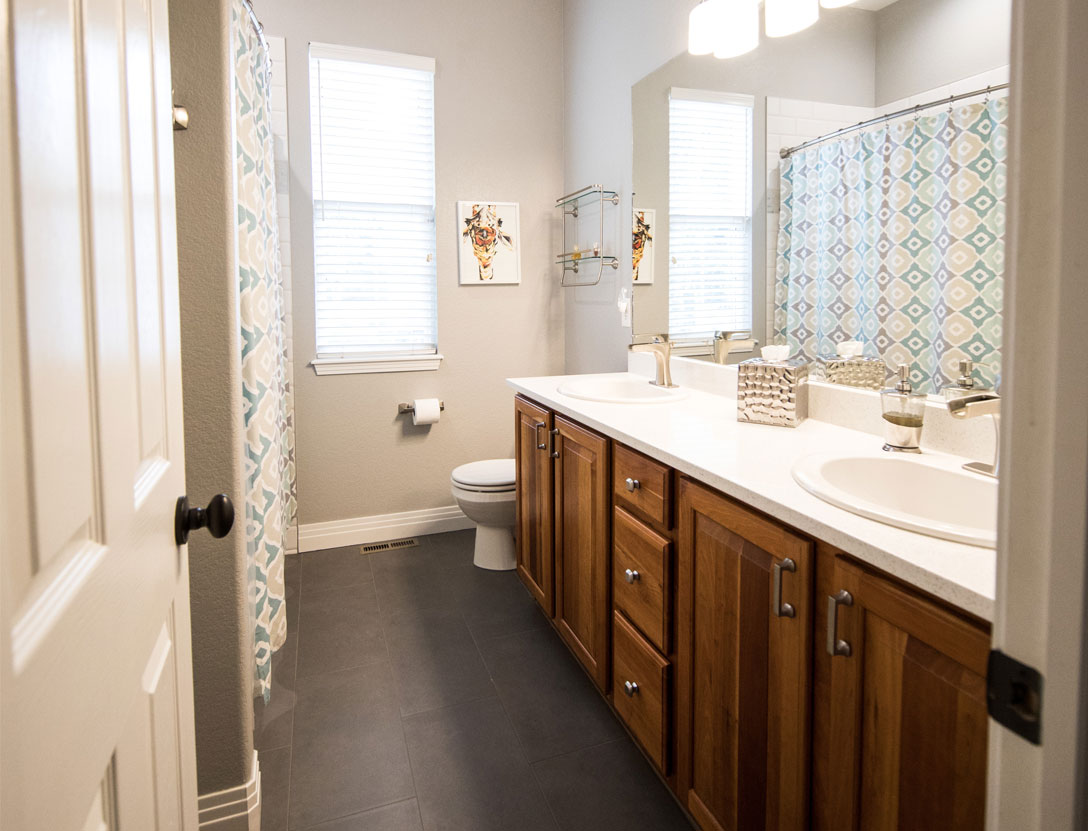 Bring Your Small Bathroom Remodel Ideas to Life
Bring us your sense of style and your small bathroom remodel ideas, and we'll work with you to craft the dream-come-true design you'll love. The first step for your powder room remodel or any other project is a conversation with our skilled interior designers.
Whether you're just getting started or you're ready for a quote, contact us today to start the conversation!
Share This: