6 Luxury Walk-In Shower Advantages
Imagine your dream luxury walk-in shower. More and more, these stunning fixtures are everywhere. In hotels, on TV, and even in our friends' homes. It's true, the allure of the walk-in shower is hard to deny. Beyond just looking beautiful, walk-in showers boast a whole host of benefits that increase house value, make cleaning easier, and make your home feel a little more like a spa.
Who could help but wonder if your home and budget are right for one of these luxury showers? Here's a breakdown of the walk-in shower advantages — and the background we think you need to establish a plan and make your dreams for your own luxury shower a reality.
Why a Walk-in Shower Wins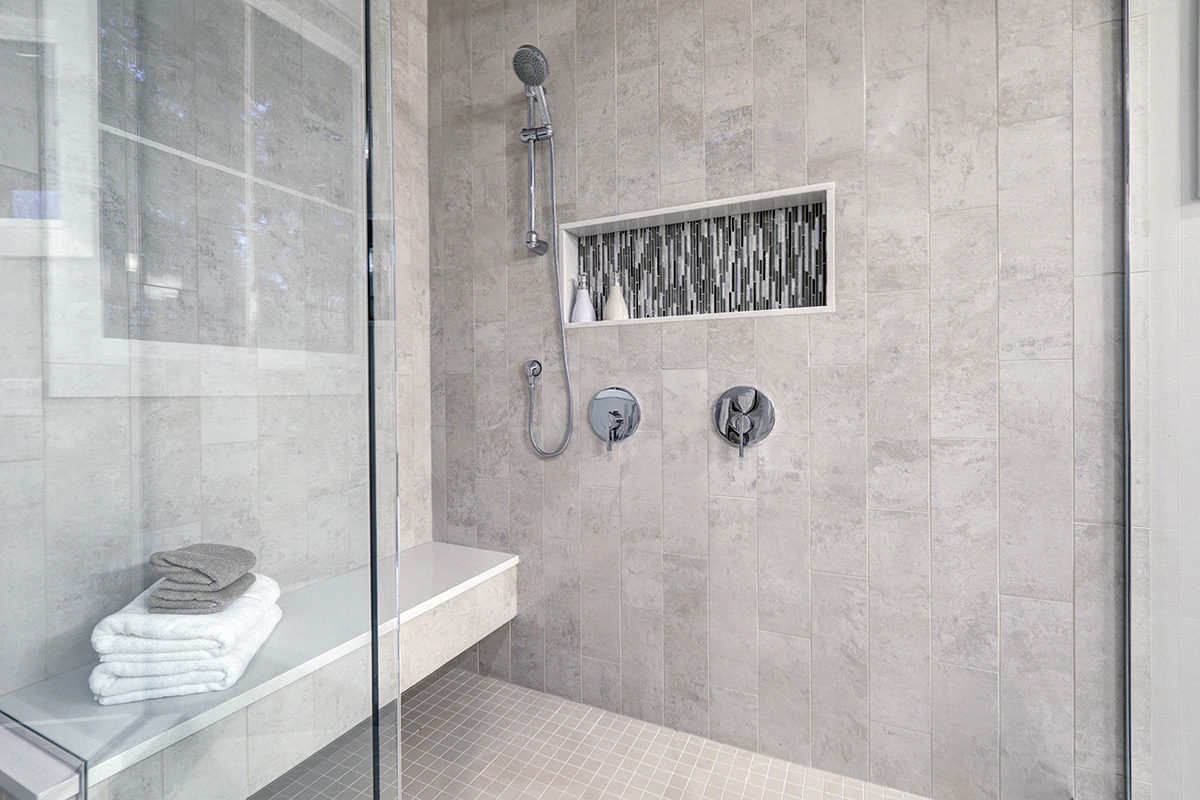 Whether you're replacing your current stall shower or eliminating a tub you no longer need, a new, improved shower is undoubtedly an upgrade. Getting the shower you want is actually way more attainable than it could seem at first glance. If you have the space, the vision, and the right help, getting the look of a shower you've been eyeing up is totally do-able.
Here are the reasons that homeowners love their new stand-up shower:
A More Comfortable Showering Experience — Beyond beauty, walk-in showers can offer a more comfortable showering experience thanks to the spacious new dimensions.
Walk-in Showers are Easier to Clean — Not only are they easier to use, but they're easier to clean, too. We're all familiar with the dreaded grout lines of the past and how impossible they were to get clean. Grout has been reformulated to resist staining, and when installed professionally, will give you a brand-new experience with tile.
Make the Bathroom Feel Roomier — A remodel is often the perfect time to make a shower feel roomier. Adding square footage is one way to do this, but if that's not an option, having tile running to the ceiling for added height and a bigger feel can accomplish it. Clear glass at your entry instead of a curtain is another way to make your bathroom feel bigger.
Recessed Storage — Utilized recessed storage in your new shower with niches customized to your toiletries.
Added Home Value — Nothing drops your home's value like only having one bathroom or one shower. Homebuyers simply expect more from modern homes. When that extra shower has a luxury spa quality, you can expect to see your home value soar.
Make Showering Easy as You Age — Custom showers offer the flexibility of built-in bench seating or curbless entry which makes for easy use by persons dealing with handicaps, injuries, or who just want to prop a leg in peace.
Done right, all of these options will stand the test of time and offer comfort for decades to come.
Walk-in Shower Custom Features
There are more than a few ways to bring your shower to the next level if you want to go all-in. Here are some of our favorite ways to create your own spa-like retreat right at home:
Plumbing fixtures — You can keep it simple or add 5- function shower heads and body sprays if that's your thing.
Custom glass — Undeniably, a rich-looking, heavy glass will elevate the design your to luxurious heights.
Accents — Adding flourishes and accents provides another opportunity to dress your shower up, when done tastefully.
If this all sounds like a bit much to take on, let a designer help you sort through the choices.
Finding Your Price Point
Getting what you want doesn't always have to break the bank! We aren't going to tell you a new shower it isn't an investment because it sure can be. But one we know with the right help, it'll be one paying you dividends — both in terms of home value and how much enjoyment you'll get from your new shower.
The beauty of customizing your shower that you can alter your price point by prioritizing which aspects are important for you to include.
Making your Pinterest Board a Reality with Choice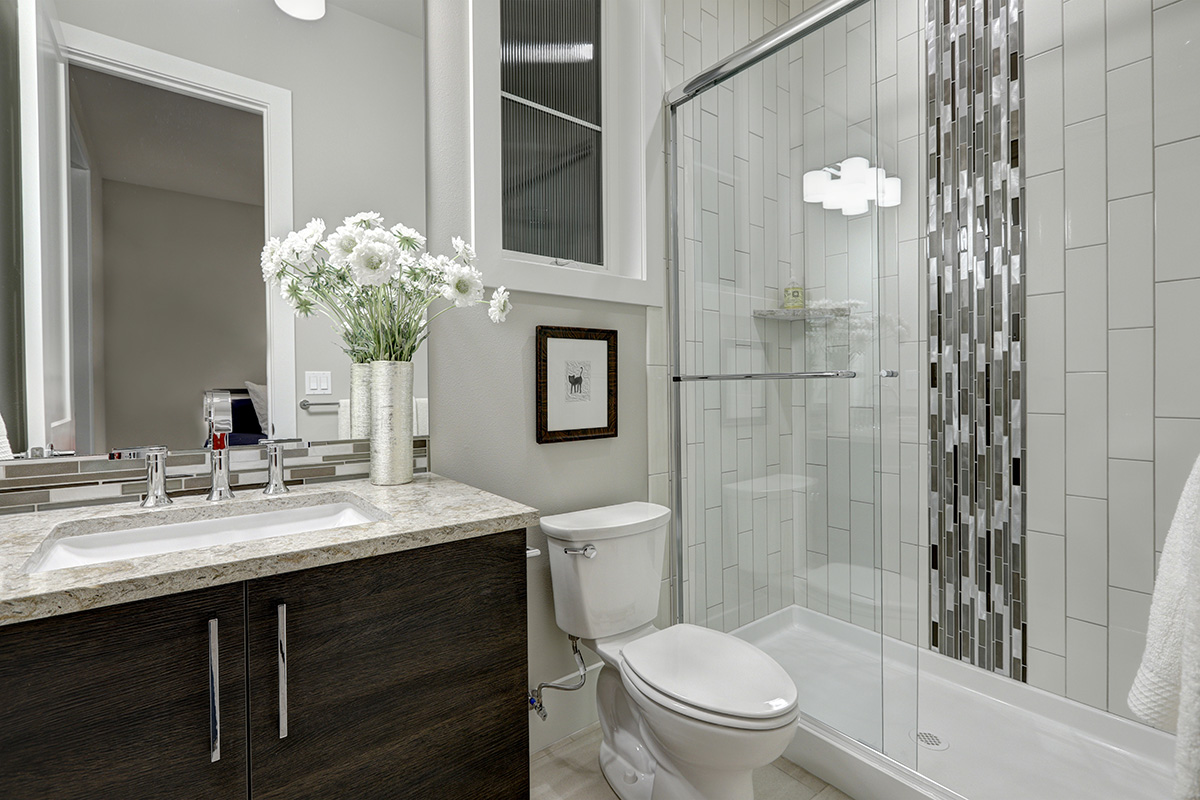 Whichever direction you go, you'll probably want to bring on a contractor to help you out, for several reasons. When it comes to selecting your materials and their arrangement, having a designer lend a hand can be vital to staying on budget and ensuring proper execution of your vision.
Another reason is that a skilled bathroom remodeling contractor guarantees your project is functional and fully-waterproof.
Waterproofing is essential if you want to enjoy peace of mind. It's not common knowledge, but tile is not a solid barrier against moisture. Without proper waterproofing barriers in place first, dampness is likely to build up behind it. Best case scenario you could end up with mold down the road, and worst case, you'll spring a leak. The good news? Any version of that scenario is totally avoidable if an experienced builder works with you.
Choice Windows Doors & More is equipped and ready to help make your dream walk-in shower a reality. From the initial design phases to the finishing touches, our team handles everything to ensure you love your renovation — and continue to love it for years to come.
Contact us to start the conversation today!
Share This: