6 Reasons Why You'll Love Luxury Vinyl Siding
While vinyl siding might be the single most common material you'll see on homes across America, it isn't exactly synonymous with deluxe style. We want to change that – and introduce you to real luxury vinyl siding! The best vinyl siding has beauty AND durability, offered at a better price than any other competing siding material.
At Choice Windows, Doors & More, we're the company that works with homeowners to make upscale dreams come true for realistic budgets. This commitment to gorgeous décor at a fair price is the main reason we believe in truly high-end vinyl. While we proudly use different lines from numerous manufacturers, some of our favorite lines of luxury vinyl siding come from nationwide leaders like Mastic and Certainteed. Keep reading to learn about what makes high-end vinyl unique – or reach out today to see your options and get quotes!
What Makes for the Best Vinyl Siding?
Sometimes vinyl siding gets a bad reputation – and it isn't justified. While there are certainly examples of cheap and bad vinyl, that has nothing to do with these luxury lines. So, whether something is wrong with your current siding or you're simply ready to upgrade your curb appeal, this is the perfect time and the perfect way to transform your home. While the attractive look is one of the first things you'll notice, there are many other key traits of the best vinyl siding.
Color Options – A huge spectrum of color options is the hallmark of any designer product, and our lines of luxury vinyl siding are no exception. While traditional vinyl comes in white and tan, the best vinyl siding offers a nearly endless color palette. While you'll find standard color options like white, tan, and brown, there are also eye-catching hues like blues, greens, dark greys, cremes, and many more standout choices.
Fade Resistant – Selecting the gorgeous color that complements your house is all well and good, but you need it to last, too. While some cheaper vinyl siding options have the potential to fade over time, all of our preferred siding lines come with a 25- to 30-year fade resistance warranty. That way, the striking color you choose is the color you get to enjoy for decades to come.
Resists Minor Damage – The cheap builder-grade vinyl that comes standard on most houses tends to be very thin. Heavier gauge luxury vinyl siding is often engineered to be strong enough to stand up to the minor damage that can happen over years of use. After all, your siding is gorgeous, so it only makes sense that you want to keep it that way.
Interesting Patterns – You probably know what the default vinyl siding pattern looks like: long, horizontal strips with an overhanging ridge. Fine for some, but you want a more distinct look.  High-end vinyl siding gives you the option to choose from a few different patterns. This is just another way that the best vinyl stands out as a deluxe home siding material.
Long-lasting, low maintenance – To us, luxury means being able to sit back and enjoy the look of your home – not having to spend time and money maintaining it. While some classic upscale siding materials, like wood or fiber cement, need to be re-painted to keep their stunning style, luxury vinyl is maintenance free.  Whether or not you ever wash your luxury vinyl, it'll last a lifetime.  However, we recommend power washing the siding every few years to keep it looking in top shape!
Lifetime Warranty – It's one thing to claim a product will last a long time – and it's another thing to prove it. The majority of luxury vinyl siding we install comes standard with a lifetime warranty. The manufacturers are so confident that they have built a good product that they can offer this no-hassle warranty which will protect you the entire time you own the home. Make sure to ask your siding expert about the warranty when choosing your favorite style.
Trust the Siding Team that Does it Right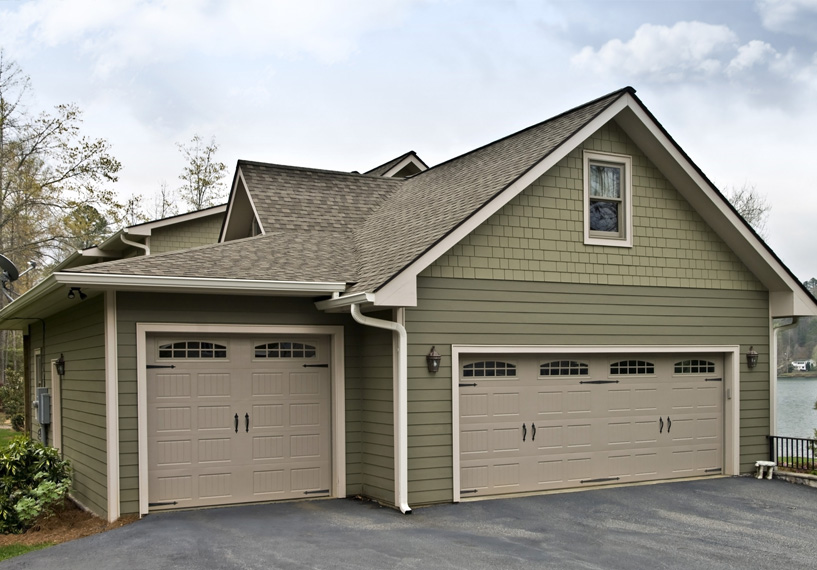 One other key to the siding that transforms your home's style and lasts a lifetime is the skill of the installation team. At Choice, our siding installers are experts who have years of experience installing a wide variety of different brands and materials. When you have luxury vinyl siding in the hands of skilled installers, you have a recipe for an outstanding home, at a fair price.
If you're ready to get started, reach out to our exterior design team. We'll help you find the perfect vinyl color and style to complete your home's look – and we'll give you a no-obligation quote!
Share This: