Stop Indoor Window Condensation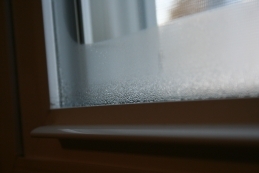 Are your windows getting foggy during the winter? Have the kids been making pictures in the condensation on your patio door? Humidity indoors is a common in most homes, happening when the invisible water vapor has contact with a cooler surface and condenses into drops of liquid on that surface.
Many people believe the window or glass door is to blame, but that is not the case. When moisture cannot get to the outside, it forms a visible presence on the cooler glass surface that is preventing its escape.
While every home has humidity, if yours has excess humidity then the condensation can cause damage, from dripping off windows to cause staining on woodwork to bigger damage like peeling wallpaper, rotting wood and mold.
The best way to prevent condensation in your home is to reduce the amount of humidity that is present.  Follow these 4 simple tips:
Exhaust fans – install in rooms where moisture naturally occurs, such as bathrooms, kitchen and laundry areas
Vent your clothes dry and gas burners to the outdoors; this gives the moisture an escape route
Open fireplace dampers to air out your house
Purchase a dehumidifier for your basement
Taking proper steps to control moisture in your home is the best way to reduce condensation on your windows. If you are still having issues, feel free to contact us to get additional information.
Share This: