Keyless Entry for Your Home
Carrying keys has always been cumbersome and even a little annoying.  They are bulky, hard to fit in a pocket when you have several, and there's always the chance you'll forget them or lose them.  Wouldn't it be great to get rid of house keys?  And how about never getting locked out of your house again, wouldn't get be great too?
There is now the option for a keyless entry for your home.  We have them on cars, so why not have them on our house doors too?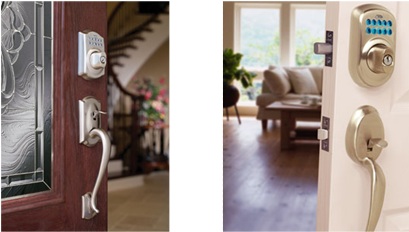 Keypad door locks are easy to install yourself and require no wiring.  You'll create a personal code to use on the keypad for gaining access to your home.  Most keypads are backlit, making it easier to enter your code any time of the day or night.
Keyless door locks can be used on exterior doors including garage doors and on interior doors.
To learn more about keyless entry for your home, contact us or visit http://consumer.schlage.come/innovation/pages/electronicsecurity.aspx
Share This: