How to Choose Your Patio Door Styles & Designs
Updating your patio door is like getting TWO home décor upgrades for the price of ONE! With the right patio door styles, you can enhance both your indoor and outdoor spaces at the same time.
Patio door designs can encompass a wide range of looks, from classic to contemporary. Whether you prefer ornate French patio doors or sleek full-glass options, Choice Windows, Doors, & More can help you discover and build your dream door.
Since there are so many choices for sliding patio doors, some homeowners don't always know where to start when searching for theirs. Check out the five questions you answer when picking your patio door — and explore some popular patio door designs to kick-start your imagination.
5 Questions to Help You Find Your Patio Door Design
Just like any other aspect of home décor, your patio door style expresses your design personality. Here are the 5 questions to take you from the drawing board to your dream patio door:
1. What style patio door do you want?
This first choice sets the tone for almost every other you're going to make, so we always ask our customers to start here. The two main styles are:
• Full Glass Sliding Doors – Maximum glass space for maximum natural light, this highly-popular patio door style gives a fully-unobstructed view. Another bonus? A full glass style door can be sliding, which is cheaper and more convenient.
• Ornamental Doors / Hinged Patio Doors – A more traditional style, these doors feature patterns, grids, or panels that accent the glass. Popular ornamental styles are the French door, the prairie-grid style, and the farmhouse-style door which have a half panel. If you want this style of patio door, it will need to be mounted on hinges, rather than sliding.
For contemporary style homes, full-glass is the dominant patio door design, but when building a craftsman style or a farmhouse style, you'll want a more ornamental patio door. Both types of doors can look absolutely stunning, and even if they match better with a certain type of design, we've seen homeowners mix and match to great effect.
2. What is your home's exterior color?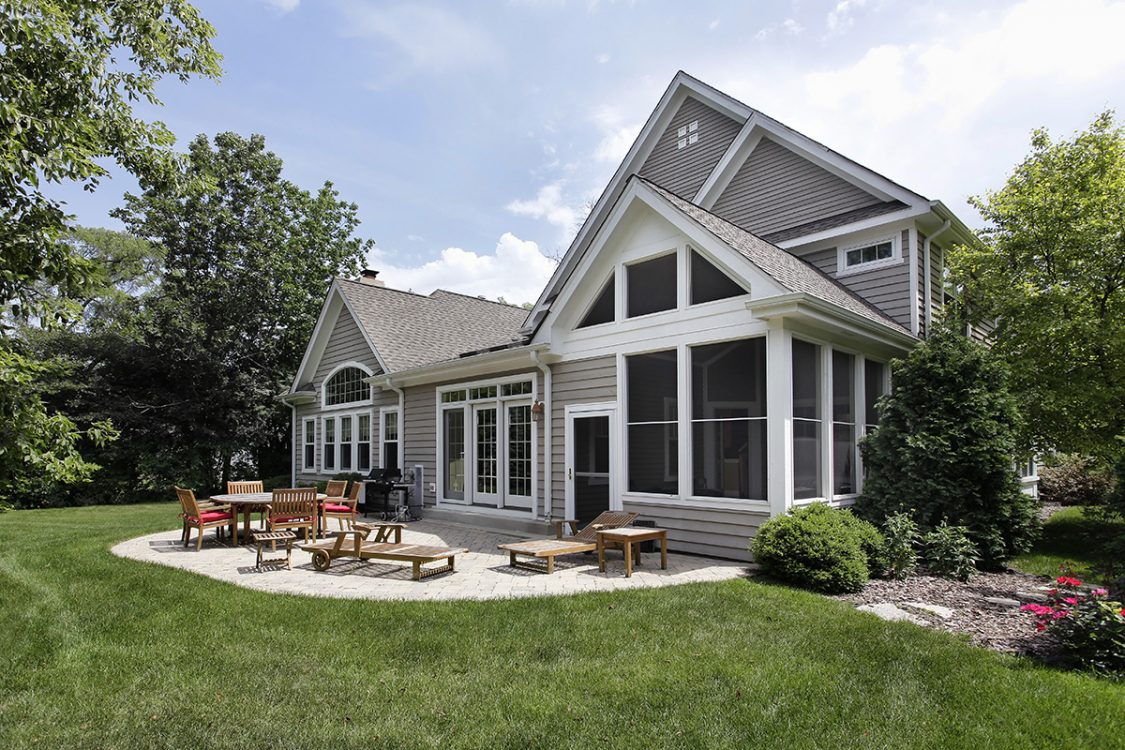 Now that you know an idea about your style blueprint, it's time to talk color. The exterior trim of your patio door is an important color opportunity, whether you want to be bold or match your home's exterior themes.
More than ever, when it comes to choosing patio door styles and colors, homeowners are going bold – especially for their contemporary designs.
While white vinyl remains a popular standby, dark trim colors are big right now. For example, homeowners are matching houses with light siding colors to rich, dark patio doors. Some of the most popular colors include dark bronze, dark chocolate brown, and black.
For a more traditional, white-picket-fence look, matching the exterior trim of the windows to the trim of the patio door is fantastic.
3. What material do you want to buy?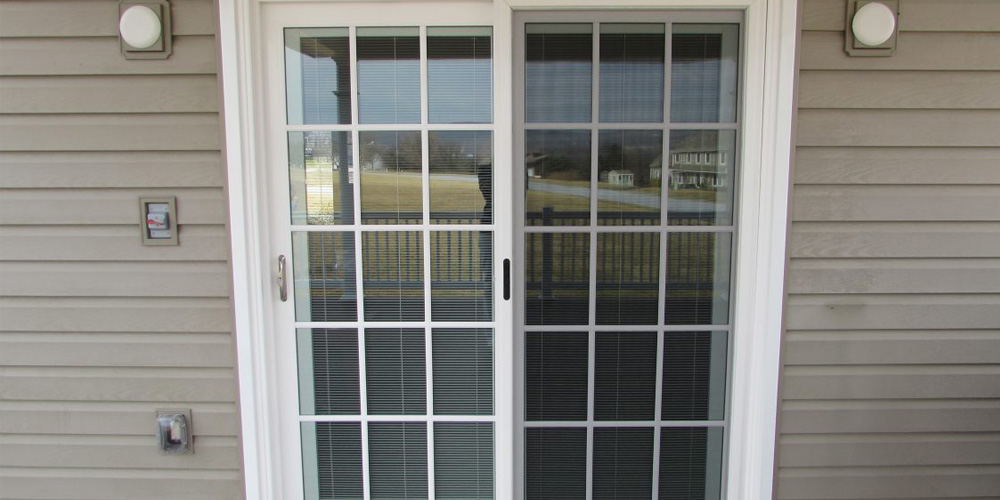 With your color profile nailed down, you're one step closer to having the patio door of your dreams. Now it's time to choose the right material and the right brand for your look, your needs, and your budget. When it comes to patio doors, the most popular materials are vinyl and wood.
At Choice Windows, Doors, & More, we proudly use the following brands: OKNA, Pella, and Anderson. While Pella and Anderson build top-of-the-line wooden patio doors, OKNA is a manufacturer of premier vinyl doors.
• OKNA – OKNA patio doors are the current best-seller in the Choice inventory. The reason for that? OKNA windows boast the best energy efficiency, a gorgeous modern style, and the best price. In fact, OKNA vinyl doors are more air-tight than the higher-priced wooden options. The only downside of OKNA doors is that while there are interior colors and interior woodgrains available, they can't be painted or stained, which can limit their stylistic uses.
• Pella and Anderson – Both of these nationally-known companies offer stellar wooden patio doors. While Vinyl windows typically embody the sleek and modern style, wooden patio doors can accompany any look – contemporary or farmhouse. In addition, Pella and Anderson windows can be customized with a wide variety of paints and stains to add more personality to the design. If you plan on choosing French doors with big perimeter features, you're going to want to check out these two companies.
4. What is your interior color style?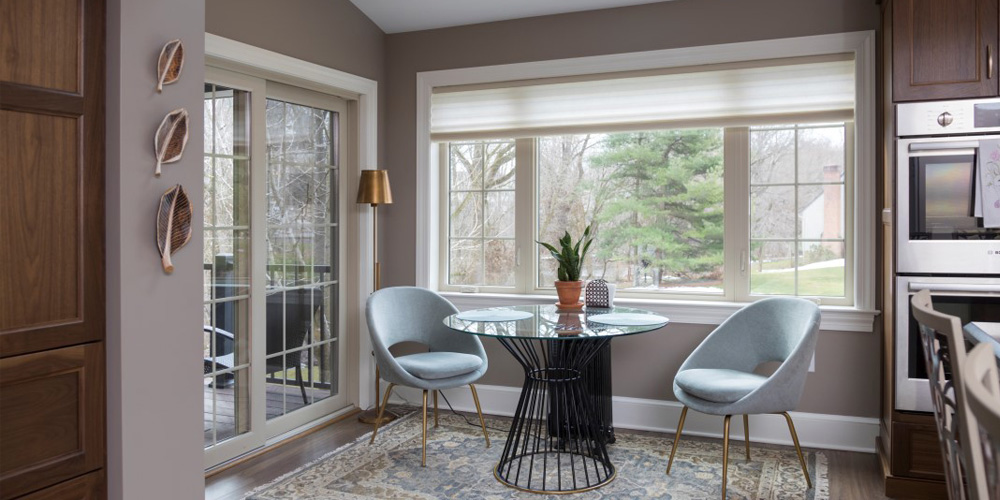 You already have the exterior color picked out, but you can still choose an interior color scheme. After all, your patio door is both a piece of interior and exterior décor. Make that interior décor work for the overall patio door design.
We often recommend homeowners looking around the room where the patio door is going to be installed. Having the door frame play off of the dominant interior color scheme enhances both looks. The interior trim of the door plays a larger role in patio door styles with more substantial frames like French doors or farmhouse style doors.
If you don't have a strong color theme or don't want to use it in your design, there are tons of styles that match just about everything! Some great do-it-all options include: white vinyl, lightly-stained wood, and light-gray wood.
5. What hardware color do you think is best?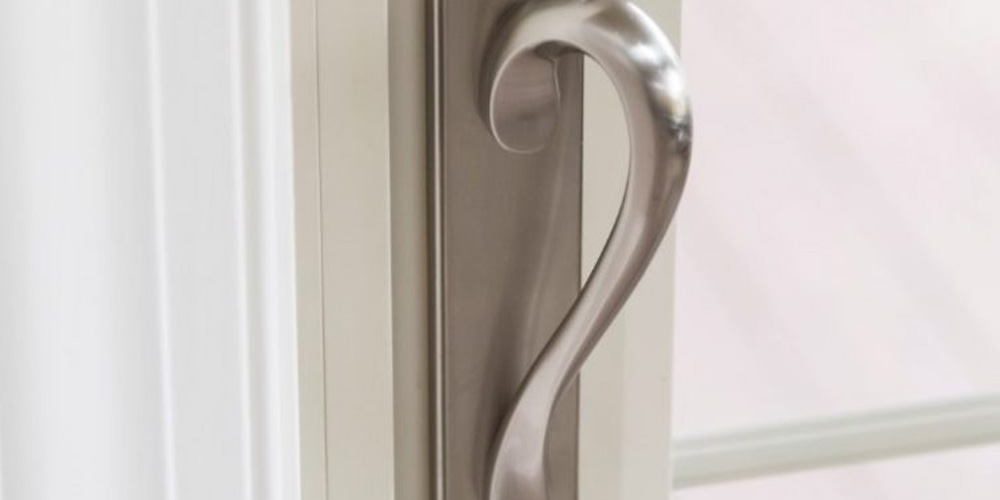 Every detail of your patio door deserves to shine, from the big details down to the intricate ones. Deciding on the hardware color choice is the final question to ask to get a clear starting point for your door.
The door hardware (handles, foot bolt, latch, knobs, etc.) also come in a whole catalogue of color choices. Like with most other aesthetics, you can build a tight theme by matching the hardware to another dominant color. We often recommend that homeowners match the hardware to the door's finish.
The hardware material you use can also contribute to your patio door style. For example, aged bronze, brushed nickel, and pewter create a rustic feeling. On the other hand, shiny steel hardware contributes to a sleek, contemporary style.
Bring Your Patio Door Styles to Life
Have a clear picture of your dream patio door? The next step is to call the professionals and make it a reality.
At Choice Windows, Doors, & More, we offer a refreshingly hassle-free approach to home improvement. When you call Choice, you have a conversation about bringing your design to life –not a discussion where you try to keep up with a fast-talking, high-pressure sales pitch.
We have more than 20 years designing windows and doors for homeowners throughout Lancaster County and beyond. You'll love your stunning patio door design and all the compliments it gets – and you'll love the experience of working with Choice.
Let's start the conversation! Contact us today!
Share This: