4 Popular Types of Front Doors
Your front door doesn't need to be boring. In fact, upgrading your front door can impact how your house feels, inside and out. Whether you want it to be a showpiece or a style supplement, there are more trending types of front doors than ever before.
At Choice Windows, Doors & More, we're the Lancaster home improvement company that installs the doors that transform your home. In our latest blog, we're breaking down the most popular types of front doors, including craftsman, modern, and more. Read on to find your front door style — or request your in-home consultation & quote today!
Most-Common Front Door Designs
A bland and ordinary front door is a huge wasted opportunity to show the world your sense of style.  Whether you're watching HGTV or driving through Lancaster County, you'll see countless gorgeous front door designs. Explore some of our favorites and find the one that best complements your sense of home style:
Craftsman Door — One of the most popular types of front doors on the market today, the Craftsman style goes with much more than just a Craftsman style house. You can recognize this style from the raised panels in the center of the door frame as well as the top glass panels. Generally, those signature panels are built from a leaded style of privacy glass. In addition to the standard Craftsman style front door design, the shaker style of Craftsman doors features flat panels for a simpler look.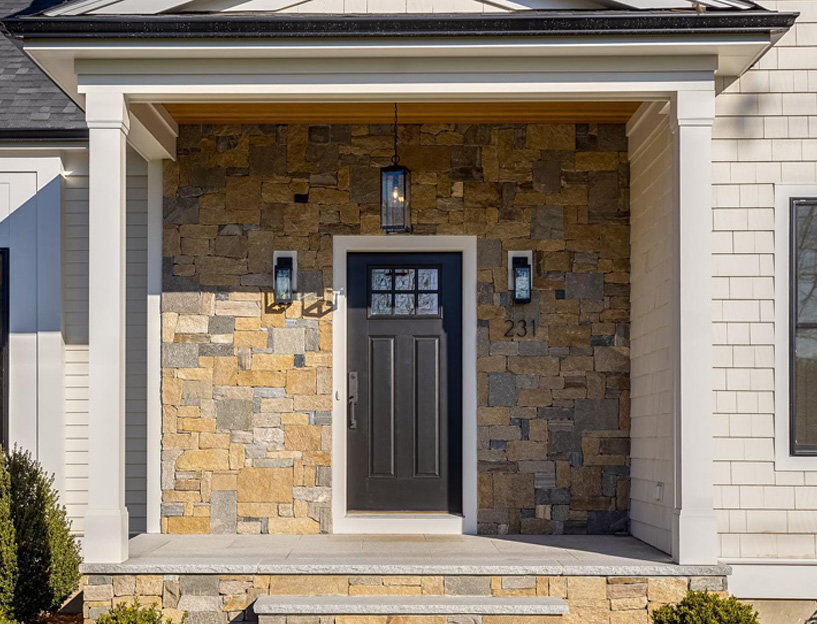 Find out what a craftsman door costs >
Ornate Door – A true style-showstopper, ornate doors are easily recognized by their use of decorative glass on the door frame itself. This type of front door matches very well with both colonial and farmhouse aesthetics. Primarily, ornate doors are ¾ light, meaning that about 75% of the door is glass. The glass patterns come in a huge variety of geometric, curved, and even flowery shapes. Ornate doors also add to their decorative style of glass with metal caming in black nickel, silver, or brass to blend with the hardware or light fixture accents. For maximum safety, all of the ornate doors we install are built with a handmade piece of glass between two pieces of safety glass.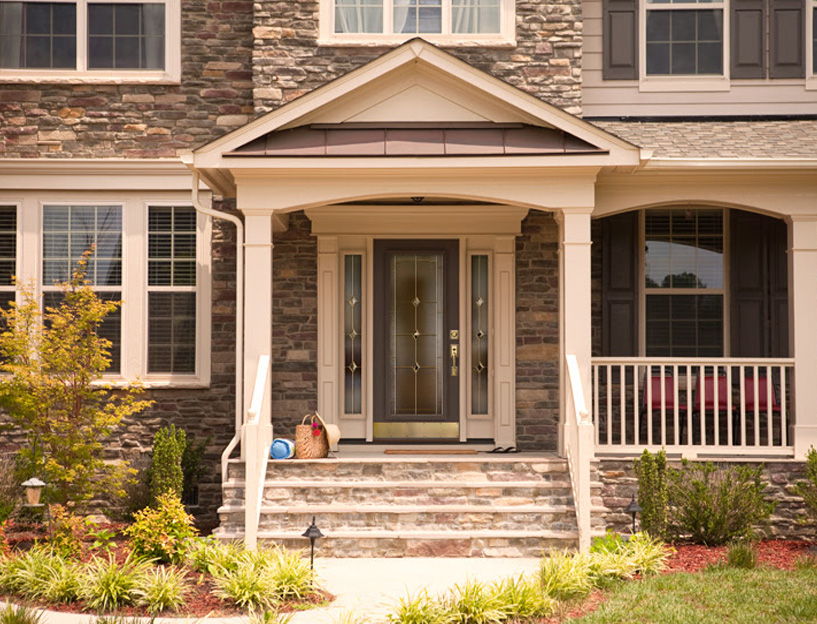 Find out what an ornate door costs >
Modern Door — A front door design that you'll either love or loathe, modern style doors are plain and function without paneling or molding. That doesn't mean they are anywhere close to plain, though! You'll be able to recognize these doors by their small, square windows running down the frame. While 3 or 5 windows are the main modern door style, some options feature a full light pane of glass.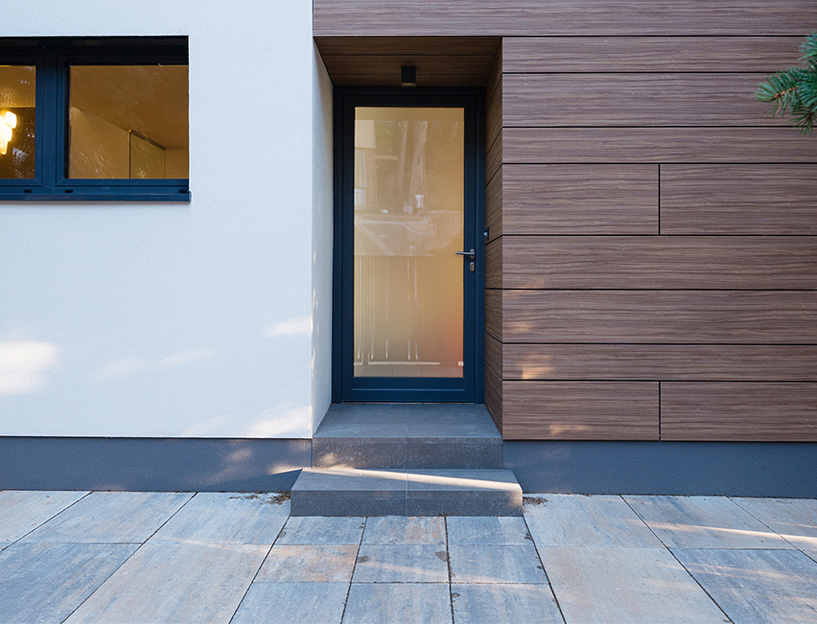 Find out what a modern door costs >
Solid door — A simple and practical door, this style doesn't feature any glass but is instead a piece of solid steel or fiberglass. This option provides maximum privacy, yet can still look very attractive. While you don't have the options for glass with this front door design, you can still customize the pattern of the panels. Generally, homeowners like to match the panel pattern with their interior doors —whether it's a 6-panel, a 4-panel, or a 2-panel door, we have it. Plus, since the Craftsman door style is so popular right now, we also offer solid Craftsman-style doors that feature panels instead of the signature windows.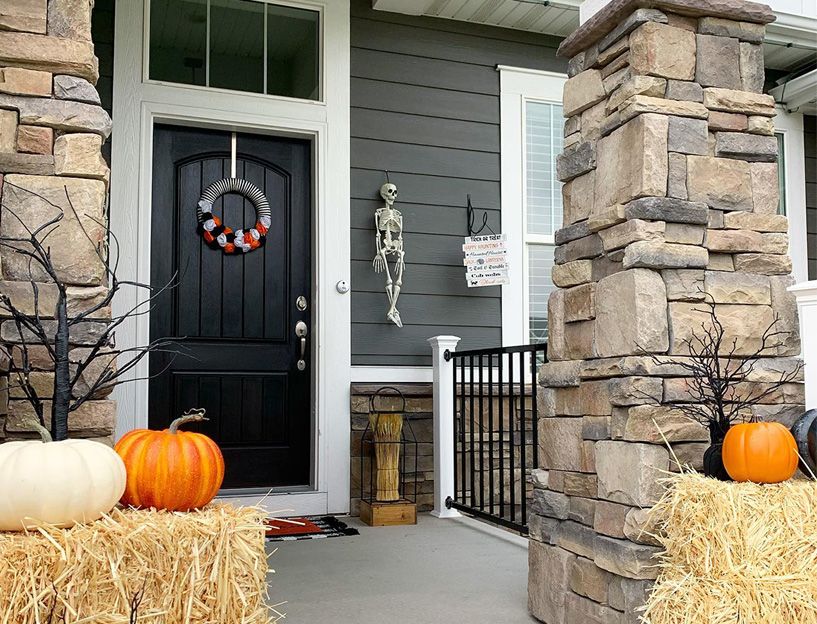 Find out what a solid door costs >
Fiberglass Vs. Steel Doors
While picking your preferred style is essential when looking through all the types of front doors, the material is another important factor to consider. The two main door materials on the market are steel and fiberglass. While both options can look and perform extremely well, we prefer fiberglass — approximately 90% of the doors we install are fiberglass doors.
These are the main differences between steel and fiberglass doors:
Durability — While both steel and fiberglass doors are strong, fiberglass doors are more durable than their steel counterparts.
Warranty — The fiberglass doors we install come with an unbeatable lifetime warranty. On the other hand, steel doors often have a 5 or 10-year warranty.
Authenticity — If an authentic looking wooden door is your style, fiberglass features a convincing and beautiful wood grain. Steel doors look nice, too, but they just can't truly mimic wood.
Price — Steel doors are still the most budget-friendly option that can give you very reliable performance.
Ultimately, both steel and fiberglass doors are each a great option – however, the advantages of fiberglass make it the popular choice for our area.
Getting new windows too? Learn about the trending window styles.
Explore Our Showroom and See All of Our Types of Front Doors
Seeing all of these gorgeous different types of doors —and finding your favorite — is the first step to changing your home. However, if you want to take a more hands-on approach, we'd like to invite you to visit our local showroom.
You can peruse our inventory of gorgeous entry doors and get a feel for exactly what you'd like. Plus, our exteriors designers will be there to help you refine your project and find the perfect fit. Feel free to drop by!
Contact us today to request your free consultation and quote!
Share This: