The Best of CertainTeed, James Hardie & Mastic Siding Colors
Changing the color of your siding is like changing the color of your hair – it has an impact on not only the way it looks, but the way you feel! According to recent studies, updating your home's exterior look can increase it's value, and can boast a 100% return on investment. Plus, everything deserves a little makeover every once and a while!
At Choice Windows, we only install the best siding options for our customers. That's why we so strongly recommend selecting a shade from James Hardie, Mastic, or CertainTeed siding colors options.
Buckle up as we drive straight into the best siding colors from each of our favorite manufactures.
Mastic Siding Colors That Will Wow:
2019 has been a big year in Mastic siding colors as many new hues and skews have been released for homeowners to take advantage of. One of the reasons why many customers choose Mastic vinyl siding is because of their low maintenance yet luxury aesthetic.
When working with Mastic siding colors, it's easy to mix and match colors and textures to create the perfect home exterior for your individual style. Below are just a few of the Mastic siding colors and combinations we love for this season!
Quiet Willow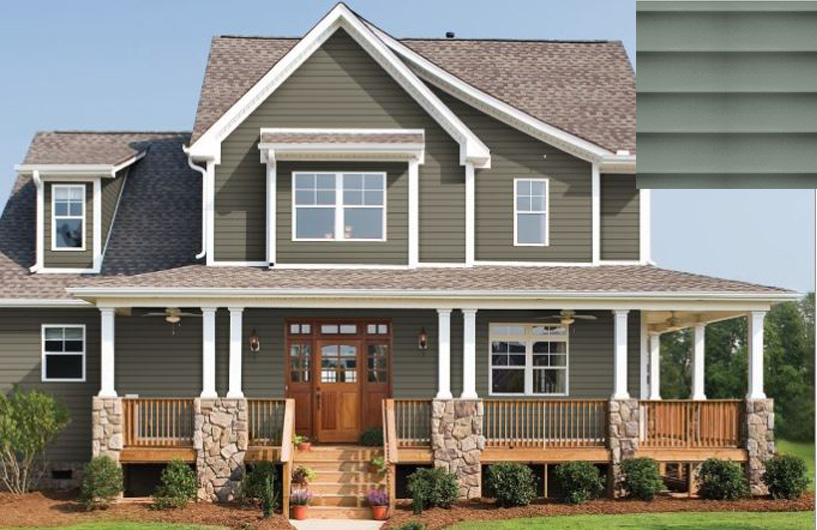 Naturally, natural colored siding tends to be a favorite among homeowners that love to spend time outdoors, or who live in a more rural environment. Coupled together with white trim and shutters creates a lovely farmhouse feel.
Newport Bay with Deep Granite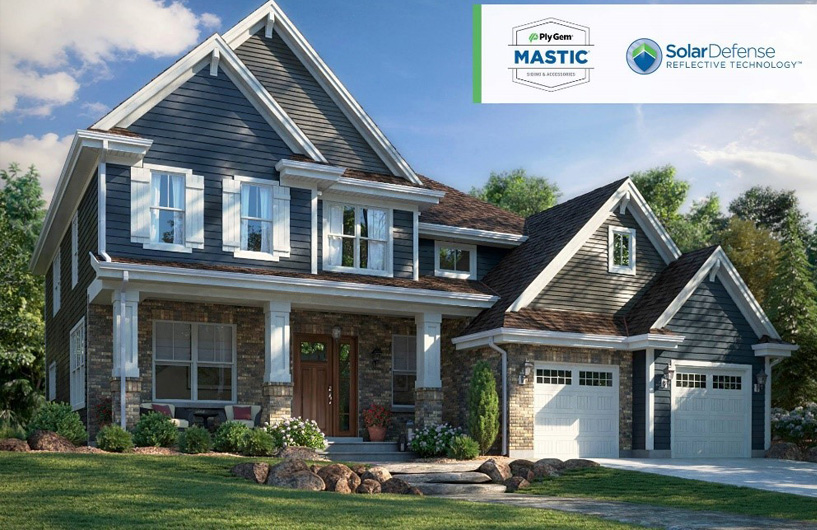 One of the biggest color duos sweeping the nation is gray and blue – translated into Mastic siding color terms: Newport Bay and Deep Granite! Either one of these rich shades standalone as a stunning choice, but when paired together, they create a true modern masterpiece.
Misty Shadow & Pebblestone Clay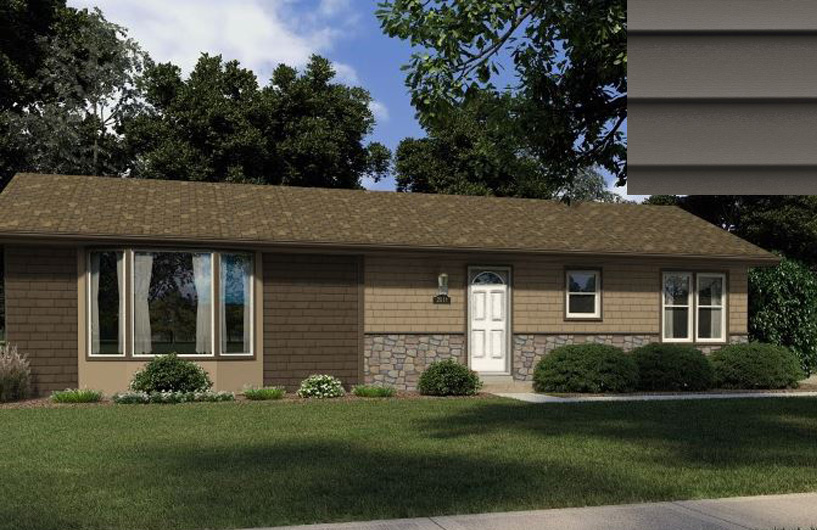 Another dynamic duo in the Mastic siding color world is Misty Shadow and Pebblestone Clay. This subtle warm-tone scheme introduces neutrals to your exterior with sophistication. While both of these colors look fabulous on their own, together, they create a unique twist on a timeless classic palette.
Seeing is believing, and to believe how great your home will look with a new Mastic siding colors, their team has created a home exterior visualizer to use for free! Check out ALL of your Mastic siding color options on the website or by using the color visualizer above.
Subtle CertainTeed Siding Colors:   
Only one company can boast the "best siding in the industry" – and that is CertainTeed! Rightfully so, the brand has worked hard to offer durable exterior siding options that last for years on end. At Choice Windows, we choose to carry and install all CertainTeed siding colors because of their lowkey statement shades, and low-maintenance.
Check out our top 3 CertainTeed siding colors.
Autumn Yellow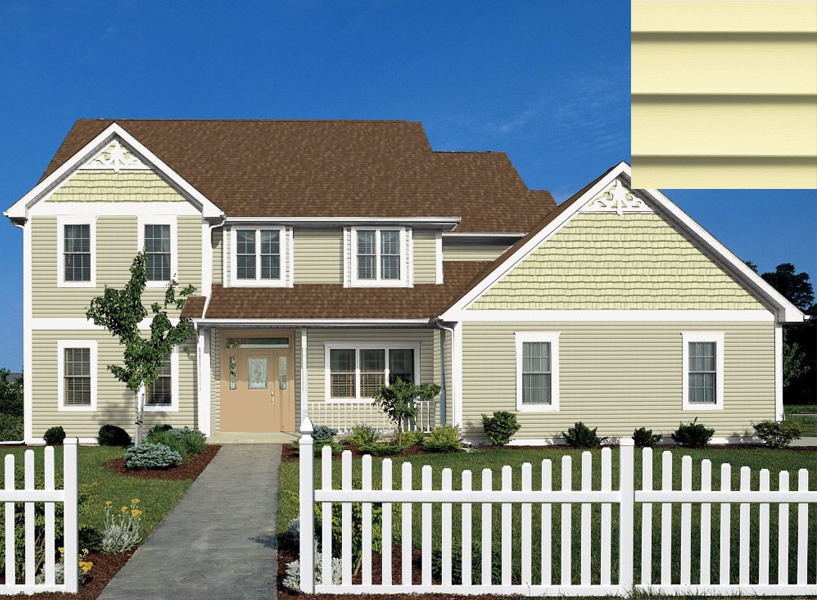 An easy way to overcome your fear of color on your home is to start here! Light and carefree, Autumn yellow is the Certainteed siding color that is bold enough to stand out, yet subtle enough to not to raise any eyebrows. Gray home after gray home, your Autumn Yellow will be a breath of fresh air! It's perfect for your beach home or casual cul-de-sac.
Oxford Blue: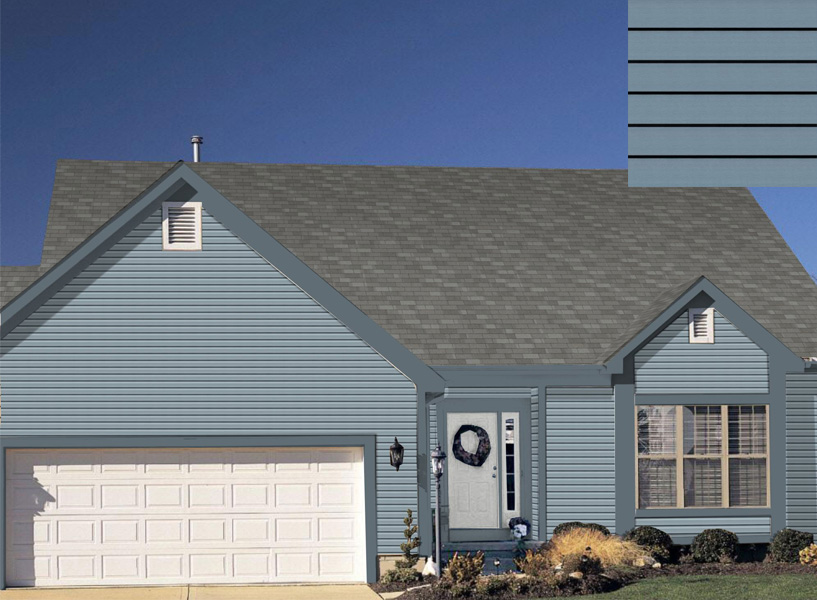 Out of all CertainTeeds' siding colors, Oxford is easily takes the blue ribbon. This season's biggest design trend is shades of blues and grays, and Oxford Blue really pulls the two together beautifully. At Choice Windows, we're big fans of matching CertainTeed's siding color Oxford Blue with a subdued Pacific Blue trim (like shown in the photo) – for obvious reasons.
Silver Ash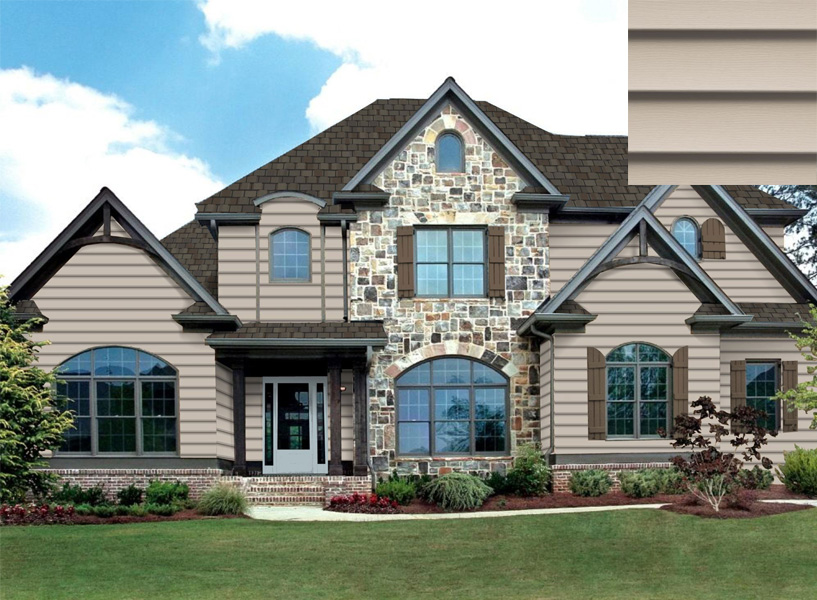 Light colors add volume and interest to any size home – that's why we love Silver Ash from CertainTeed. If your home's exterior has a handful of design elements, like stonework or roof pitches, closely related colors will unify its unique design! Silver Ash is one of the Certainteed siding colors that compliments stonework so well.
James Hardie Fiber Cement Siding Colors:  
James Hardie is the leading siding manufacturer making earth-toned statement shades that would make Mother Earth proud – and not just for their muted colors but for the eco-friendly benefits.
The best part? James Hardie has Baked-on ColorPlus® Technology that guarantees you greater resistance to fading, chipping, and cracking. Less maintenance for you, longer lifespan for your home. Below are just a few of the 15 fiber cement siding colors gaining momentum this season:
Artic White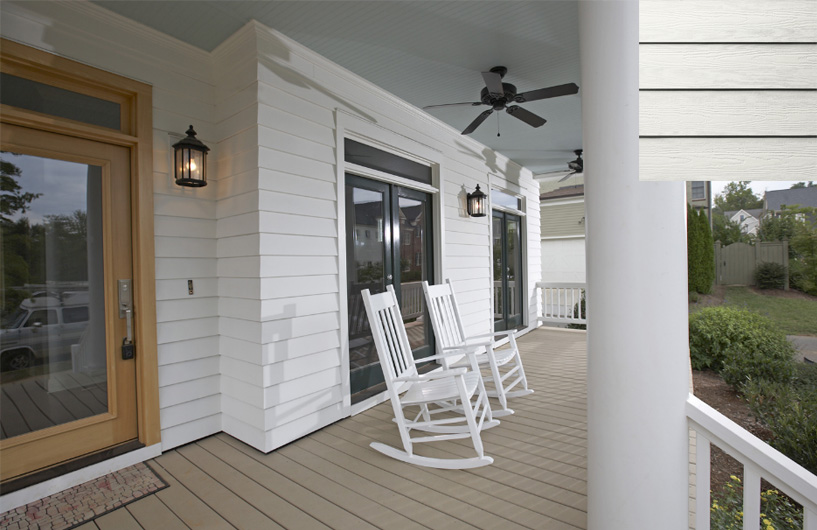 If you're raising a white-flag to color this year, Artic White is the siding color for you. As the trend of simple, minimalism home interiors continue to pick up speed, so does James Hardie's Artic White fiber cement siding color. Don't let the light and bright vibes deceive you – despite its light color, it is actually eminently easy to clean, and low-maintenance.
Iron Gray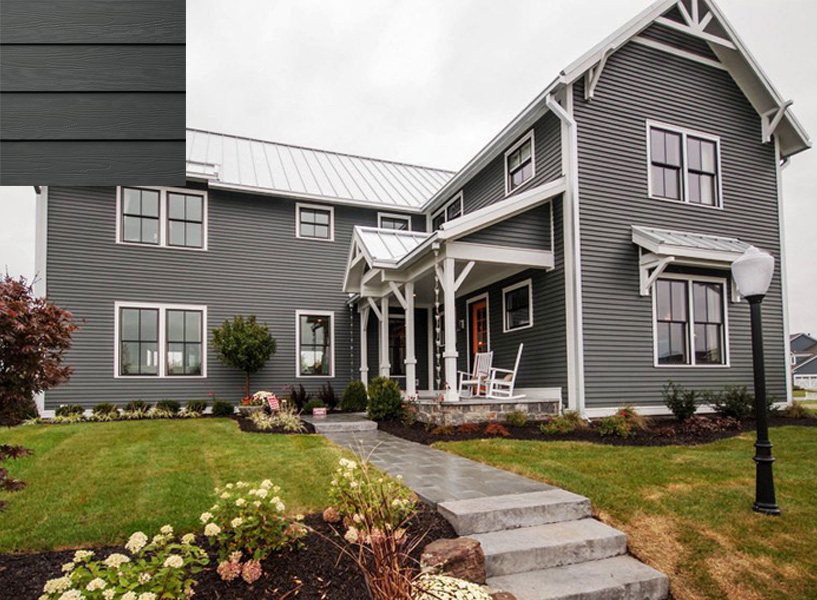 You may not think that a neutral can be bold, but we bet the James Hardie fiber cement siding color of Iron Gray will change your mind. The dramatic yet elegant feel of Iron Gray is the shade to choose for your modern farmhouse or standout-townhome. Because of it's neutrality, trim color options are truly endless. However, a few of our favorite options are a crisp white or industrial black.
Mountain Sage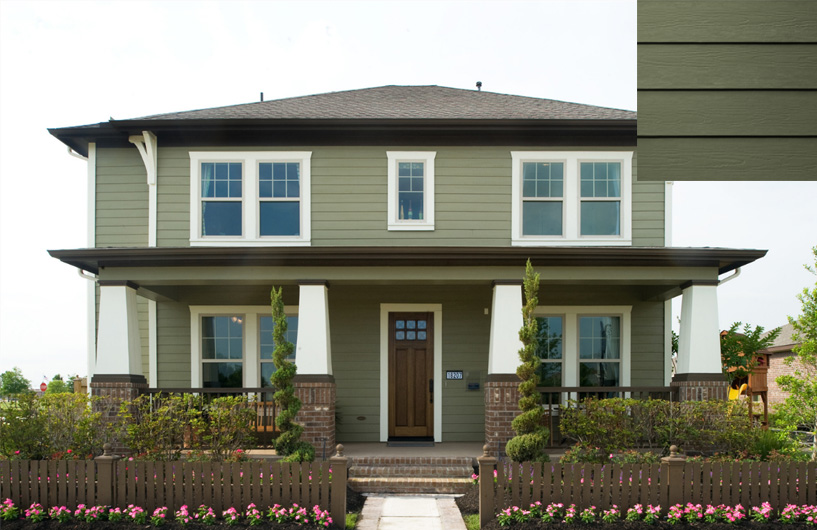 Mountain Sage is a shade that is neither too light nor too dark – we guess you could call it, "the green in-between"! With contrasting white trim or natural wood accent pieces, you can create a warm mood in an understated way with this soft James Hardie fiber cement siding color.
Whichever fiber cement siding color stimulates your style senses, make sure that you work with an experienced siding installer like Choice Windows. If not installed correctly, no matter which siding color you choose, it will quickly begin to collect moisture damage!
Selecting Your Siding Color & Installer from Lancaster PA
Whether you've just hatched a color palette idea or know exactly the shade and brand you want, Choice Windows is here and happy to help. Our installation teams are fast, tidy, and eager to work with you.
With free price quotes, free color samples, and free professional advice – what do you have to lose? Get started today on giving your home the colorful upgrade it deserves!
Share This: