Your Fall Maintenance Guide & Checklist
Fall is in the air, and with the changing weather, it's the perfect time of year to tackle several home maintenance tasks that will be downright impossible to do in 30-degree weather and three feet of snow.


Where Should I Start?
From inspecting your roofing to installing weather-stripping and cleaning your gutters and downspouts, check these items off your to-do list this fall season, and you can enjoy the holidays knowing your home is ready for anything winter may bring.
Protect Your Pipes and Hoses
Protect your home's pipes by turning off the water to any exterior faucets and insulating any exposed pipes. While you're at it, drain the hoses and put them away safely in your garage or shed.

Inspect the Driveway, Walkways, Stairs, and Railings
Simply walking from your car to the front door can be difficult when covered in snow and ice. Make moving around outdoors this winter safer by checking the condition of your driveway, walkways, stairs, and railings. If they're cracked or in need of repair, contact an experienced home improvement contractor to help keep everyone safe.
Vacuum the Radiators, Grates, Ducts, and Baseboard Heaters
Regardless of your home's heating system, it's important to clear away dust, lint, and other fine debris from the radiators, ducts, or baseboard heaters and grates.
Add Weather-Stripping
Button up your windows and doors by adding weather-stripping to keep the cold out and the warmth in. Also, add door sweeps to the bottom of any drafty doors to help do the same. A little weather stripping can put a serious dent in your utility bills.
Seal Any Gaps
Mice and other critters can squeeze their way into the tiniest of gaps, and with winter on its way, they'll all be looking to burrow someplace warm. To keep your home and pantry critter-free, fill any small gaps or holes to keep the wildlife where it belongs, outdoors.

Rake Leaves
There's nothing like the changing colors of fall, and your yard may look beautiful covered in red and golden leaves, but leaving them spread about will inhibit spring growth. A weekend of raking this fall will help ensure the grass grows back nice and full come April.
Trim Your Trees and Shrubs
Pruning your trees and shrubs this fall and getting rid of any dead material will help keep you safe from falling limbs in winter storms. It will also help keep them healthy and looking their best. It's also important to keep your eye out for discolored spots, early leaf color change, and needles turning down as these are all signs of disease.
Check Your Roofing and Siding
Walk around your property and look for any signs of damage to the siding. Also, pull out the ladder and have a look at your roof. If you see anything in need of repair, call a professional home improvement contractor and have it scheduled for repair before the snow and freezing cold hits.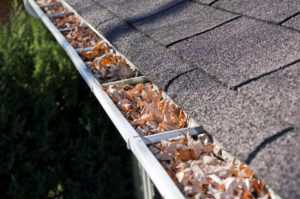 Clean the Gutters and Downspouts
After the leaves have fallen, make sure to clean the gutters and spouts to keep them free and clear of debris. During rain and snowstorms, clogged gutters can lead to water pooling around the edges of your roof and cause roof or siding damage. Neglecting this seasonal task can result in costly unnecessary repairs.
Have Your Chimney and Heating System Cleaned
Before you burn the first pile of firewood and turn on your boiler or furnace, make sure both are cleaned and in good working order. If your chimney doesn't have a cap, add one. It will help keep the mice, raccoons, squirrels, and other critters from crawling down into your home.
Perform an Energy Audit
Your home's energy efficiency can cost or save you hundreds of dollars in a few short months. So, before winter sets in, have a trained energy auditor assess the energy-efficiency of your home. He or she may find problems with your home's weather-stripping, attic insulation, and so on. To save money, you can also perform the energy audit yourself. Simply go to Energy.gov for instructions.
Bottom Line
Winter weather can do a real number on your home. However, by taking some time to perform these fall winterization tasks, you'll ensure it is ready for the sleet, snow, and cold temps.
Not sure if your home is ready for winter? Call the professionals at Choice Windows, Doors & More for a free consultation today!
Share This: