What You Can Expect When Remodeling a Bathroom
Of all the projects that will make your house more family-friendly, bathroom remodeling consistently ranks in the top five with many a home improvement contractor. Although it may not have the instant curb-appeal of new siding or roofing, bathroom upgrades are just as important in making a house more functional and efficient on a daily basis. Remodeling takes on added significance if you plan on selling your house or if you want to just upgrade; a dingy, cramped-for-space bathroom will leave a very negative impression on visitors or potential buyers!
Plan Beforehand
Making a detailed list of ways to improve the efficiency and appearance of your bathroom is a great idea, and will give you a good head start on the time-consuming process of choosing various features and fixtures. It really helps to shop around, and if possible visit a remodeling showroom, either in person or online to see how the items on your list could be incorporated into existing bathroom plans. If you're on a tight budget, a mock-up of what you have in mind will result in a more accurate cost estimate.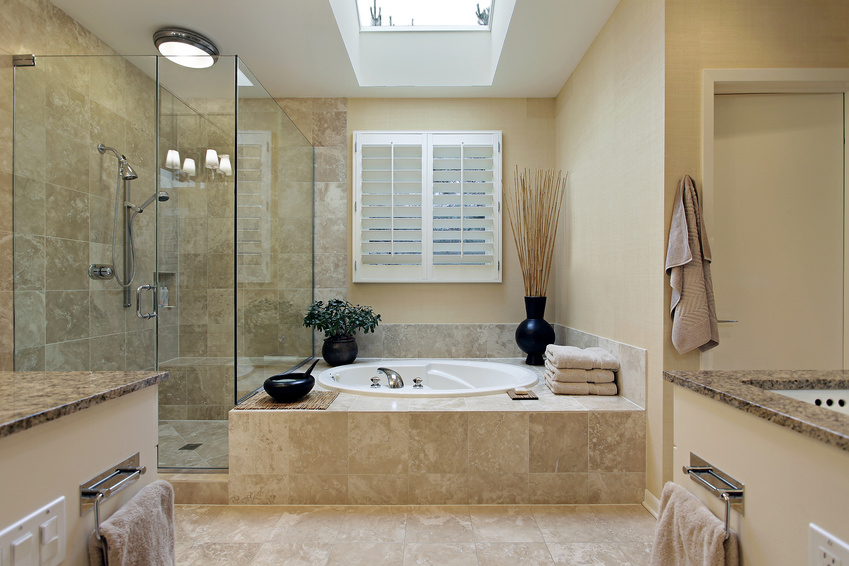 The following tips and advice relate to what most homeowners can expect to encounter when tackling a bathroom remodeling project:
For such a small room, this is a major undertaking, so now is the time to make your bathroom more efficient. Installing a double sink will keep space usage issues in your family to a minimum. Separating the tu from the shower will make for easier clean-up, and better access to the shower for disabled or reduced mobility household members. Other areas to consider are building-in lots of storage areas in unused space, and if your bathroom doesn't already have it, by all means upgrade to a 20-amp electrical service to handle any extra loads.
Before deciding on a home improvement contractor, check out examples of their prior work, and look for strong, independent referrals. Visiting and interacting on their website is a good way to test the waters first. Because bathrooms contain several different service aspects such as plumbing, electrical, HVAC, etc., be sure to get a detailed cost estimate on the materials involved and the time to install before signing anything.
Be prepared to set up a temporary shower and toilet arrangement, if you don't have a second bathroom in the house! Pick an area like the basement or garage that has a floor drain for the shower, and rent a "port-a-potty" service for toilet facilities. If this is not an option in your area, you might need to prevail on nearby family or neighbors.
Choose and order all new components way ahead of time, so the job won't be delayed for lack of supplies. This is one home remodeling job you want done as quickly as possible! Everything that you need to personally pick out for the task, such as plumbing fixtures, lighting, tile, etc should be onsite ready to install from day one. Any possible delays will then relate to the services trades (electrical, plumbing), and are out of your control.
Expect a lot of noise and dust, ideally plan the work to be done during mild weather, so the dust can be vented to the outside via fans, and all the construction debris can be hauled out without disrupting the inside temperature too much. Be sure to cover your floors with drop cloths leading from the bathroom exit all the way to the door the tradespeople are using to enter the house.
When dealing with an old house bathroom remodeling job, plan on all sorts of unexpected issues cropping up. Corroded, leaky plumbing is probably the most costly thing that could be exposed. It's one thing to have nice new fixtures set to go in, but if the pipes leading to them leak, you've got major problems. Another budget-buster is whether hazardous materials like lead paint and asbestos in the tile mastic are discovered. Old bathrooms are typically undersized for today's needs, so any expansion to accommodate new features will be very expensive as well.
Eyes on the Prize!
Throughout the whole ordeal that total bathroom renovation sometimes represents, keep reminding yourself just how much more user-friendly your new facilities will be, and with all the new features, how much more you've added to your home's resale value!
Share This: