Different Types of Countertops For Your Home
If you're in the beginning stages of a kitchen remodel or bathroom remodel, this gives you the exciting opportunity to have a home that finally speaks to your needs and style preferences. However, with so many different types of countertops to choose from, you want to make sure you pick the right one. Choosing a countertop should be a fun and easy process that will allow you to add a design element that will pull your kitchen or bathroom together. Not to mention, it is such an easy way to upgrade the look and value of your home.
Although design will be a huge factor you think about when choosing a countertop surface, there are several other factors you should also consider. Each kind of countertop has a level or durability that is affected by the porosity of the material. The more porous the countertop is, the less it is able to endure and the more the surface will show stains and other damages. That means some types of countertops with have less longevity and require more maintenance overtime.
All that to say, there is a decent amount of information to think over before you make your final decision.
The Breakdown of Countertop Materials
When researching these countertops materials, it's important to keep in mind that each option has their own advantages and disadvantages. As professional home improvement contractors, Choice Windows, Doors & More gets the pleasure of helping homeowners customize their kitchens, bathrooms, and the rest of their home to meet the needs of their household lifestyles, as well their style preferences, and of course – their budget.
So if you're a creative cook, a red wine lover, or you have kids you like to help in the kitchen – no worries, we're here to help! Take a look at our five most popular types of countertops that our experts have broken down for you before you start your home improvement project…
Laminate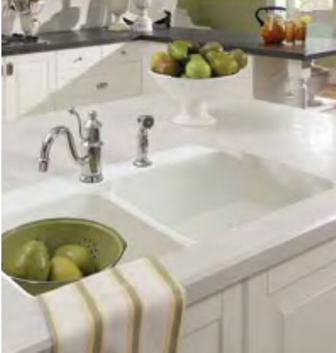 Available in a wide variety of colors
A few different edge treatments are available
Available in a few different finishes (matte, glossy stone-like, and textured)
Option for undermount sinks (stainless steel and acrylic) to create a seamless
Easy to maintain
Not heat resistant and could scratch
Pricing: Inexpensive, cost-efficient
Corian
Solid acrylic surface
Can have a sink molded into it for a seamless look
Could scratch, but minor scratches can be buffed out
Not heat resistant
Pricing: Moderately expensive; available in different price levels; depending on the color, the mid-price option is comparable to quartz or a low-level granite.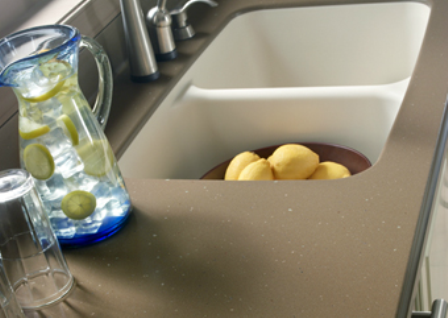 Granite

Solid, natural stone surface
Durable, scratch-resistant, food safe
Available in a wide variety of colors
Available in a few finishes
Porous, requires resealing 1-2 times a year
Pricing: Expensive
Quartz
Pure quartz surface with a small amount of pigment and resin.
Nonporous, strong and compact
Scratch-resistant, maintenance-free, food safe and stain-resistant
Available in a large variety of colors
Available in a few finishes
All of the same edge treatments as granite, from simple to elaborate
Pricing: Expensive; similar in price to a mid-level granite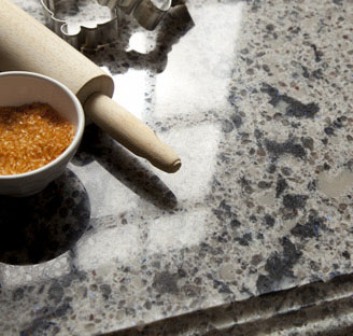 Cultured Marble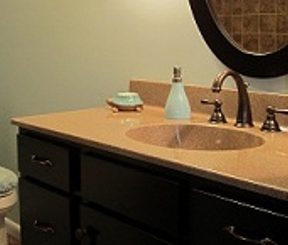 Used for bathroom vanity tops
Sink and backsplash molded as one piece
Solid or patterned colors available
Pricing: Inexpensive, more cost effective than granite or quartz
Choosing the Perfect Type of Countertop for Your Remodeling Project
If you need help deciding what type of countertop is best for your home improvement project, contact Choice Windows, Doors & More and we will help you find a countertop material that fits all of your requirements. After speaking with our countertop design experts, you can begin your kitchen or bathroom remodeling today!
Share This: