Should you hire a kitchen and bathroom designer?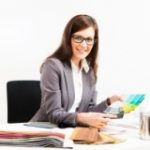 If you spend any time on Pinterest at all, you've seen many pictures of dream kitchens and bathrooms, designed for perfection and organized for optimum efficiency. Perhaps you've pinned a few as a future reference for when you remodel your own kitchen or bathroom? While you can see the gorgeous end result in a picture, the process of remodeling can be very involved, going well beyond redecorating and choosing countertops and cabinet hardware.
A helpful way to get through a kitchen or bathroom remodel is to enlist the help of a Certified Kitchen Designer (CKD), a licensed, professional designer with training in both kitchen and bathroom design with specific emphasis on cabinetry. A CKD will guide you, from the planning stages to hiring subcontractors to, yes, picking out those countertops.
In this age of "do-it-yourself" projects, you might be tempted to save some money and handle the project design and logistics yourself. But homeowners who have worked with a CKD found that they got the most value for their money on the entire project and were able to avoid making costly mistakes.
The National Kitchen and Bath Association refers to professional kitchen and bath designers as skilled traffic cops—"they get everything to their proper places safely."
How can a Certified Kitchen Designer help you with your kitchen or bath remodel?
Planning an efficient room layout
Incorporating your style into the design elements
Selecting materials and products that fit your budget and match your style
Advising you on new products and technology
Coordinating the subcontractors—plumbers, electricians, lighting experts, carpenters, cabinet installers, flooring specialists
Managing the remodeling project from the complex issues to the tiniest details
So, keep pinning those pictures on Pinterest. Get inspired to create the kitchen and bathroom of your dreams, and check out the National Kitchen and Bath Association for more information on working with Certified Kitchen Designers who will help you make those dreams a reality. 
Stop by our New Holland showroom and check out all of our kitchen and bathroom displays for more inspiration. When you're ready to talk about your vision for your kitchen or bathroom and get an idea on cost, contact our Certified Kitchen Designers for a free consultation and estimate.
Share This: