Countertop Patterns for Kitchens & Bathrooms
For many homeowners, their gorgeous kitchen or bathroom countertops are more than just the centerpiece of the design – they're almost like a work of art. After all, some of these amazing, intricate patterns do look like they belong in a gallery! To help you plan your dream kitchen, we're showcasing the most popular types of countertop patterns and highlighting examples of each.
At Choice Windows, Doors & More, we're a total home improvement company that provides luxury bathroom and kitchen remodeling throughout central PA. Finding a countertop pattern that you love is one of the first steps towards your dream renovation. Keep reading to see some of our countertop pictures that highlight the differences and show off the style potential!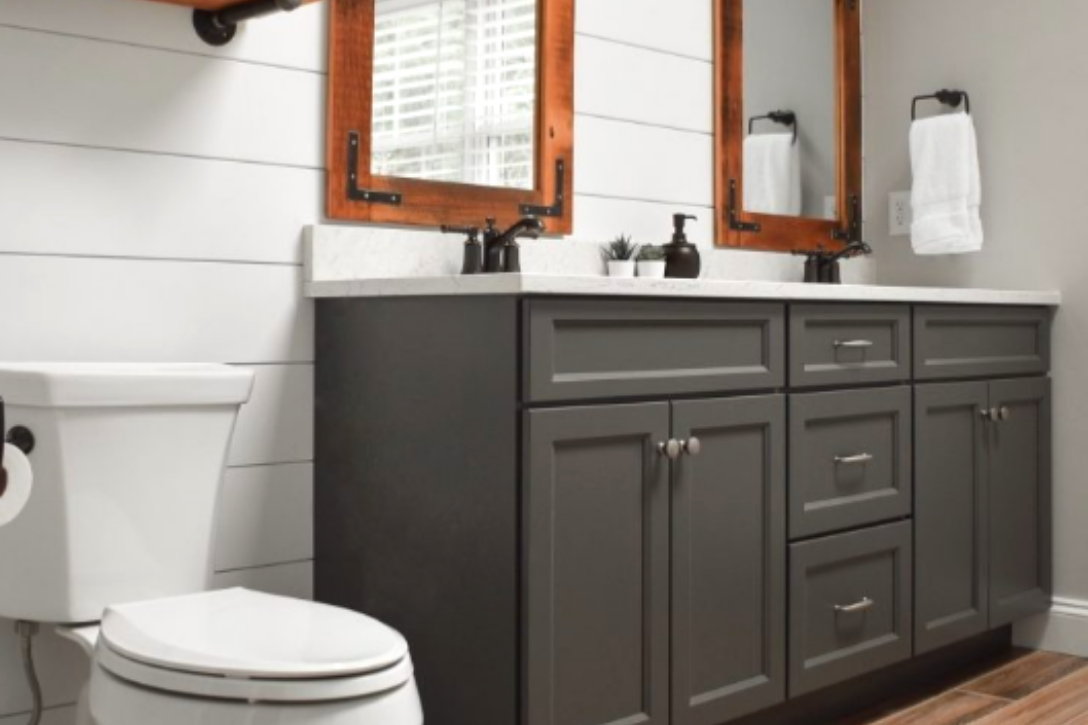 Countertop Pictures You Need to See 
While you have an enormous variety of different individual countertop patterns to choose from for your renovation, they primarily fall into one of four distinct styles. Selecting the pattern is one of the first elements when starting out, and it can be the key to guiding your overall design. See countertop pictures from some of our favorite recent projects and find the style you want to bring home:
Bold Patterns with Veining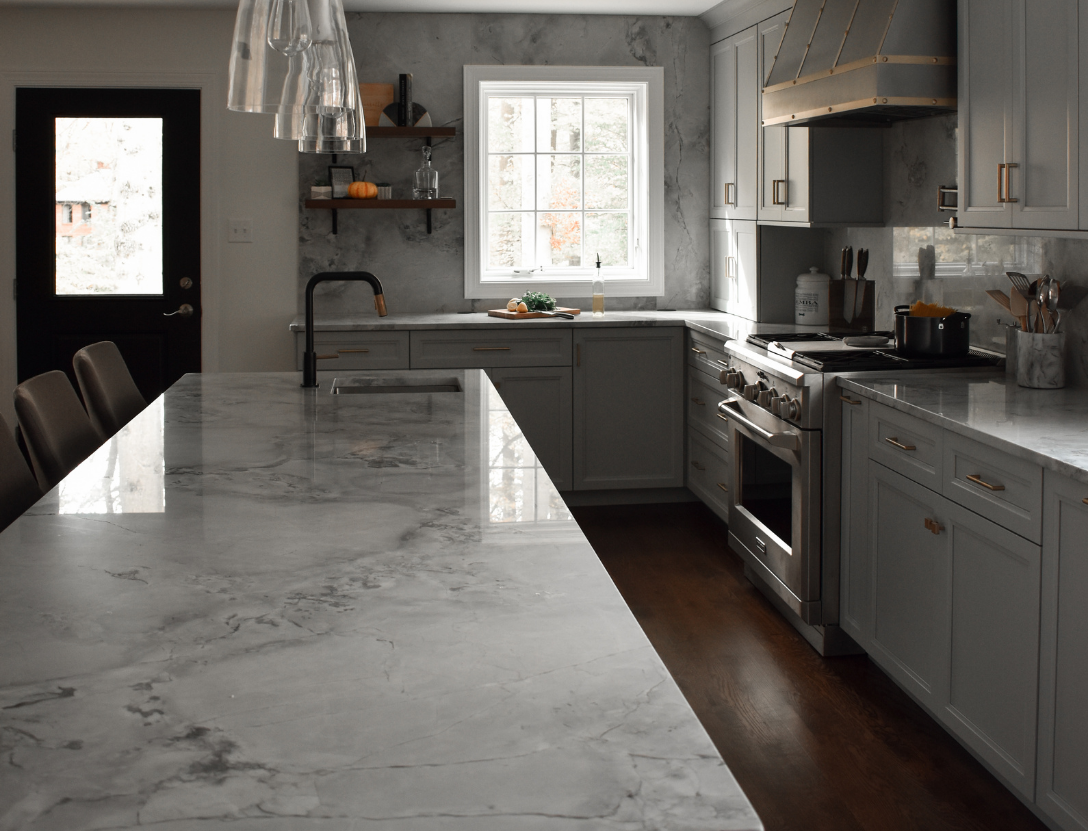 This is the style to choose if you plan to make the countertop the focal point of your design. These patterns feature often-colorful freeform lines, shapes, and veins that prove extremely eye-catching. This style of patterning is available in both quartz and granite. Notice the deep vein running through this light grey base on the statement island below.
Uniform Pattern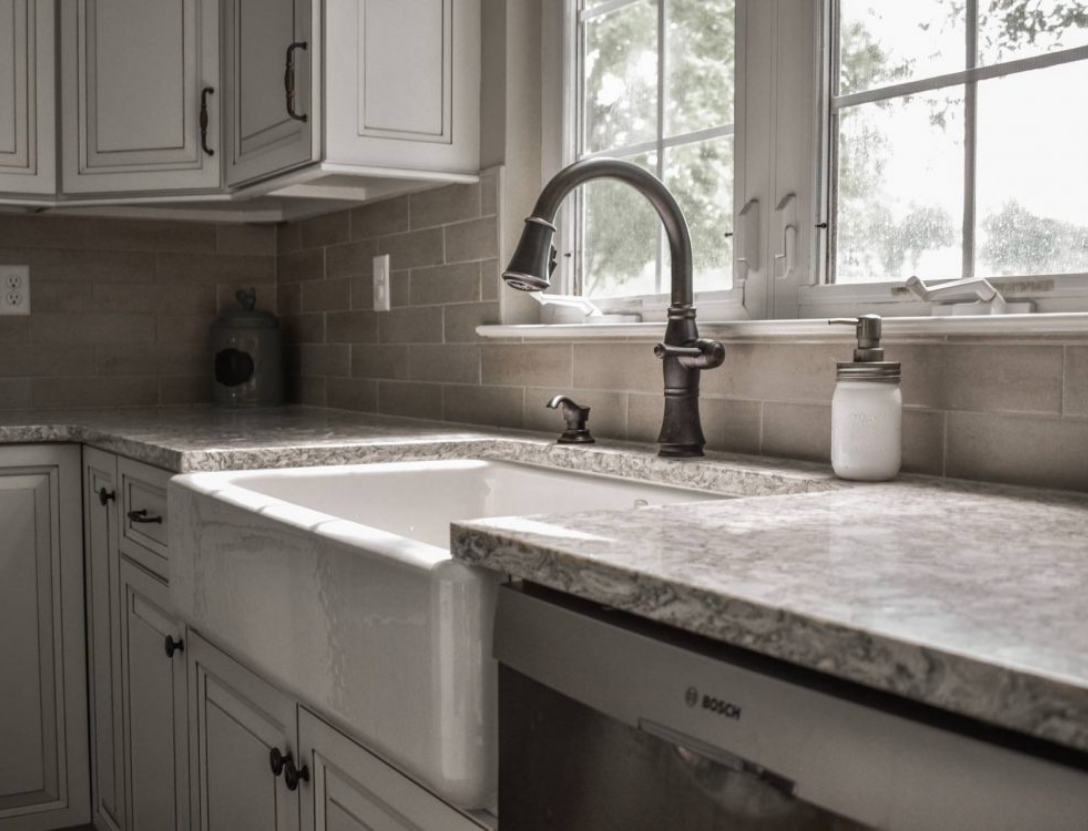 In contrast to the bold style above, this type of countertop pattern blends in well with almost any design. These patterns show more subtle and uniform designs that create a softer look overall for the kitchen. Expect to see less dramatic colors and more simple shapes in these patterns. We recommend this pattern for homeowners who are planning to go all out on amazing cabinets and will want to put the primary focus there.
Solid Shade or Color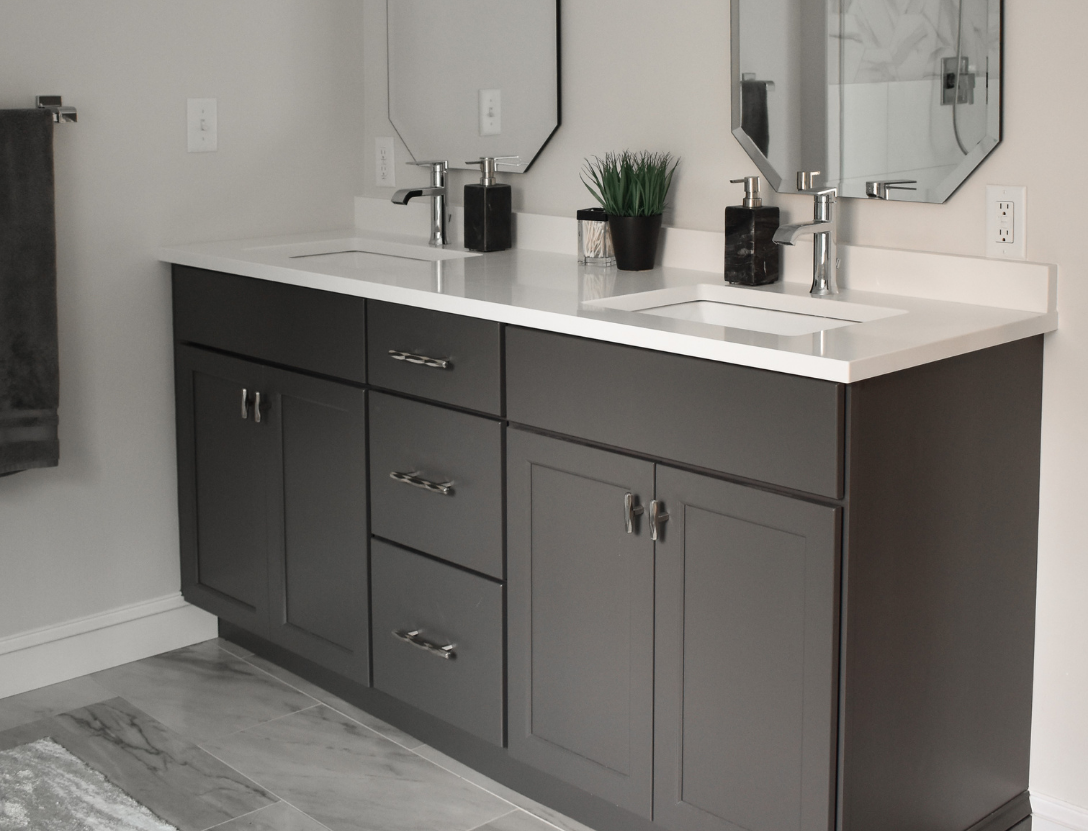 Doing away with both simple and intense patterns, this type of countertop is made up of entirely one color – without a pattern or design. This style can look extremely attractive in contemporary designs, especially when paired with a contrasting color. Seen just as much in bathroom remodeling as kitchen redos, white is the most common shade you'll see. When done right, these countertops can be absolutely exceptional.
Imitation Stone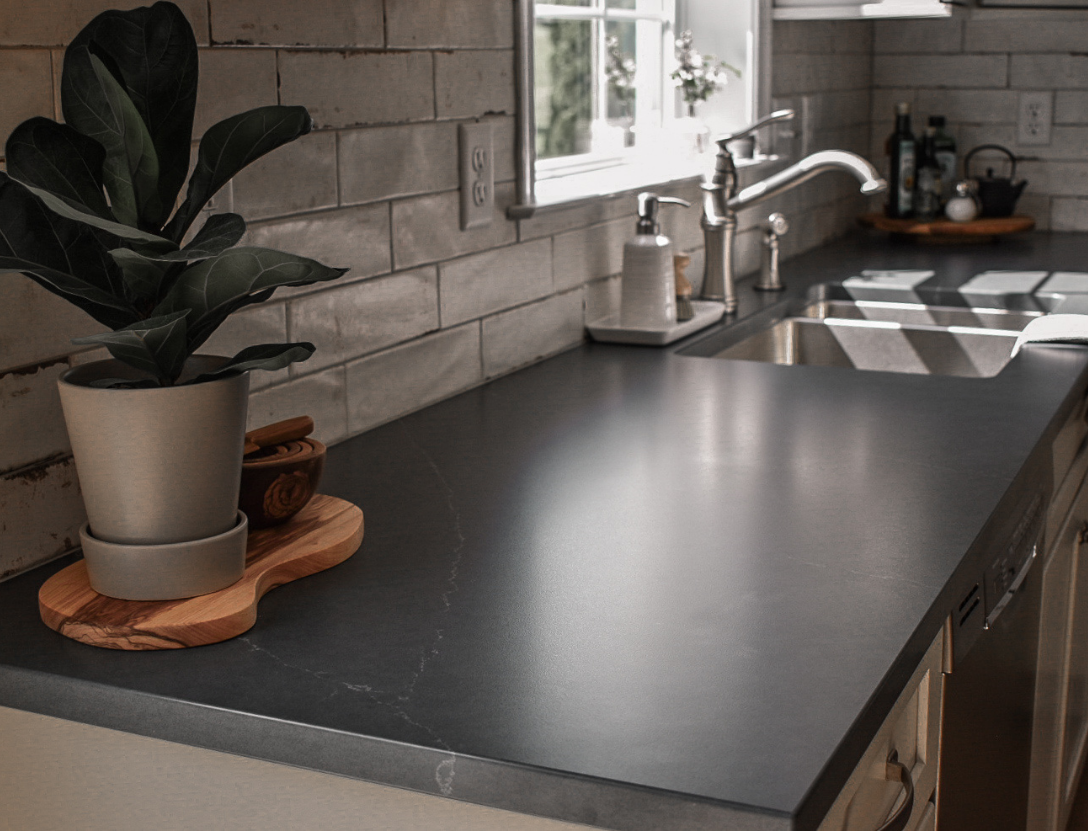 This popular countertop style is meant to imitate the classic look of marble or soapstone but with the conveniences of a man-made product. From a style perspective, these countertops can look similar to ones with a bold pattern, but the veining and natural patterns will likely have a slightly more delicate and predicable style. In the countertop picture below, we're showcasing a gorgeous imitation soapstone countertop.
We hope these countertop pictures sparked your imagination – or at the very least introduced you to just how many options you can choose from. If you want to take the next step, we recommend reaching out to our kitchen remodeling team to request a consultation at home or in our showroom!
Complete Kitchens by Choice
While exceptional countertop patterns were the focus of today's blog, there are many other opportunities to update your kitchen during a remodel. New countertops can have an absolutely massive impact on the look and usability of any kitchen redesign. Plus, upgrading your appliances is key to transforming the look as well as how much you enjoy cooking in the kitchen. We take a holistic approach towards your new kitchen – and we handle ALL of the elements of design.
Simply put: when you work with Choice, you're not just buying new cabinets or countertops – you're partnering with an expert to fully transform your space!
See More Countertop Patterns at Our Inspiration Center
If you know which type of countertop pattern belongs in your new kitchen, our team is standing by to help. Countertop pictures really can't do justice to the beauty of any of these styles – visit our Lancaster County inspiration center to see them in person! We have numerous real projects and sample materials on display to help you discover more of your style. Plus, if you are ready to start designing, one of our skilled designers will be ready to work with you!
Reach out today to schedule your consultation at our inspiration center!
Share This: