Bathroom Design Trend: Separate Tub and Shower Combos
A master bathroom that feels like a luxury spa in your home: that's the dream that more and more homeowners have. Look on Pinterest or flip on HGTV and you'll see separate tub and shower combos everywhere! In today's blog, we're diving into this modern trend and showcasing some of our favorite projects that highlight it!
At Choice Windows, Doors & More, we're a home remodeling company that works with clients to design and build gorgeous bathrooms. However, if you'd rather have a conversation, please reach out to schedule a consultation with our design team today!
Exploring 2-Piece Tub and Shower Combos
You can instantly recognize this trend due to the presence of both a stand-up shower and a detached soaking tub. In bathroom remodeling, this has replaced the tried-and-true 1-piece shower and tub units. By opting for the 2-piece tub and shower combo, you get the very best of each of these pieces. See this exciting bathroom style in action – and how it completes these designs:
Open and Charming – With a distinct farmhouse style, this bathroom remodel projects an aura of charm. By opting for the beautiful separate tub and shower combo, there is a truly open feel to the entire bathroom space.
Maximizing Your Space – This project showcases just how space efficient a 2-piece tub and shower combo can be! Both the soaking tub and walk-in shower are massive – yet the space still feels comfortable and accessible, not crowded.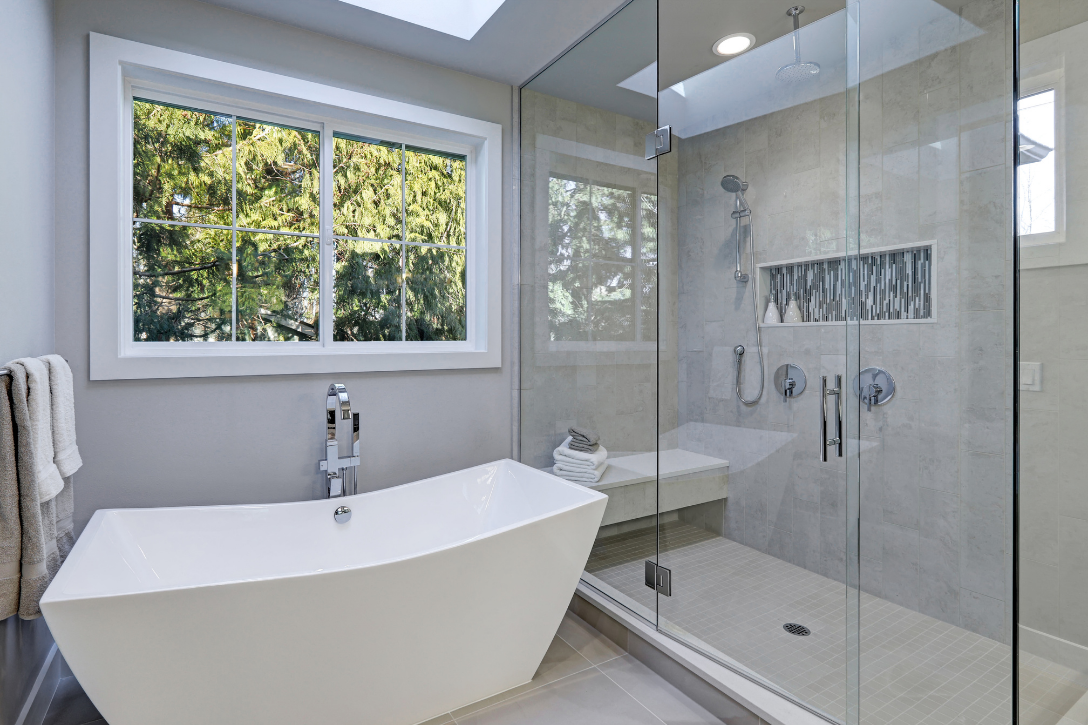 A Modern Showpiece – This was an ambitious, magazine-worthy bathroom remodel. Our designers worked closely with the homeowners to create a master bathroom that would feel – and look – like nothing else they'd ever seen.
Warm and Classic – Designed with traditional-looking marble sinks and tile floors, this bathroom puts a central focus on the 2-piece tub and shower combo. Notice how the elevated soaking tub is placed below a series of windows, giving the opportunity for a great view! The luxurious stand-up shower pairs perfectly with the tub for a complete design.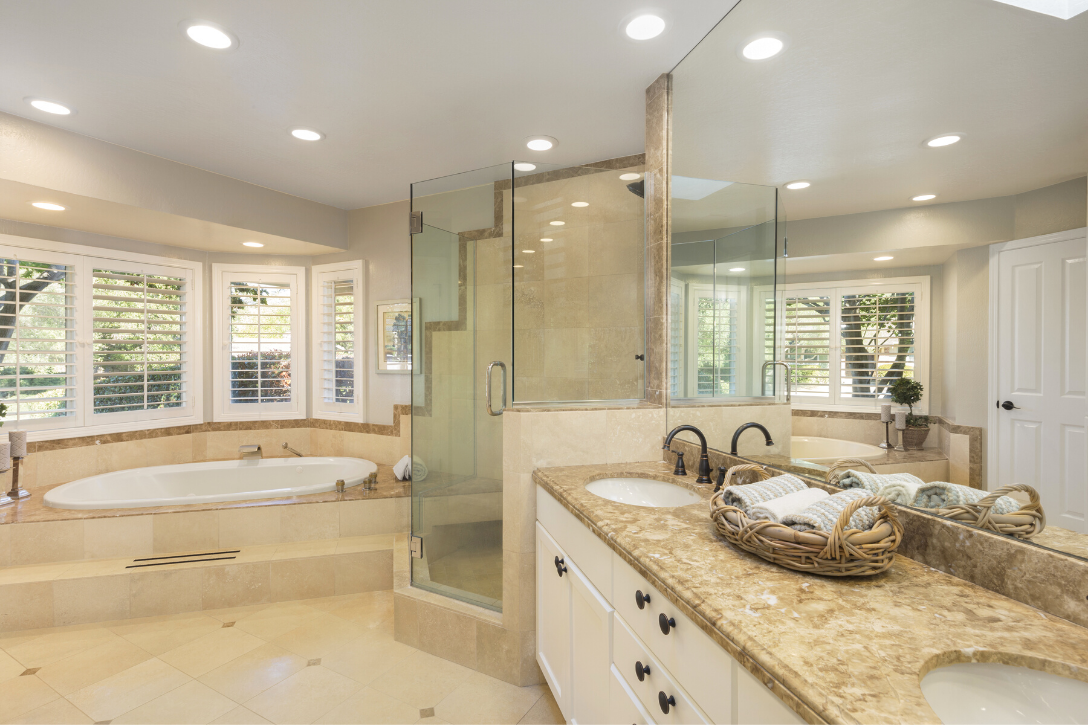 Benefits of Soaking Tubs and Stand-Up Showers
While a 2-piece tub and shower combo is the perfect match – and the star of today's blog – you can separate the pieces. An option for smaller bathrooms, doing this allows you to enjoy the individual benefits of these fixtures.
Soaking Tubs – Compared to an ordinary tub, a soaking tub will be deeper, allowing you to fully immerse yourself in the water. On top of that, you can place a free-standing tub almost anywhere throughout your bathroom. One of the most popular places for one is beneath a window, so you can look out as you soak.  A solo soaking tub is less common than a stand-up shower – however, it can be an incredible inclusion into some spaces.
Stand-Up Showers – Even without the soaking tub combo, stand-up showers have become dramatically more popular. From a style standpoint, a stand-up shower provides ample opportunity to showcase your tastes – you can opt for tile, faux stone, or countless other pattern choices. For example, since the shower doesn't also need to serve as a tub, you can enjoy a wider walk-in shower. Practically speaking, stand-up showers make your bathroom feel bigger, make showering easier as you age, and boost your home value!
Learn more about the advantages of having a walk-in shower.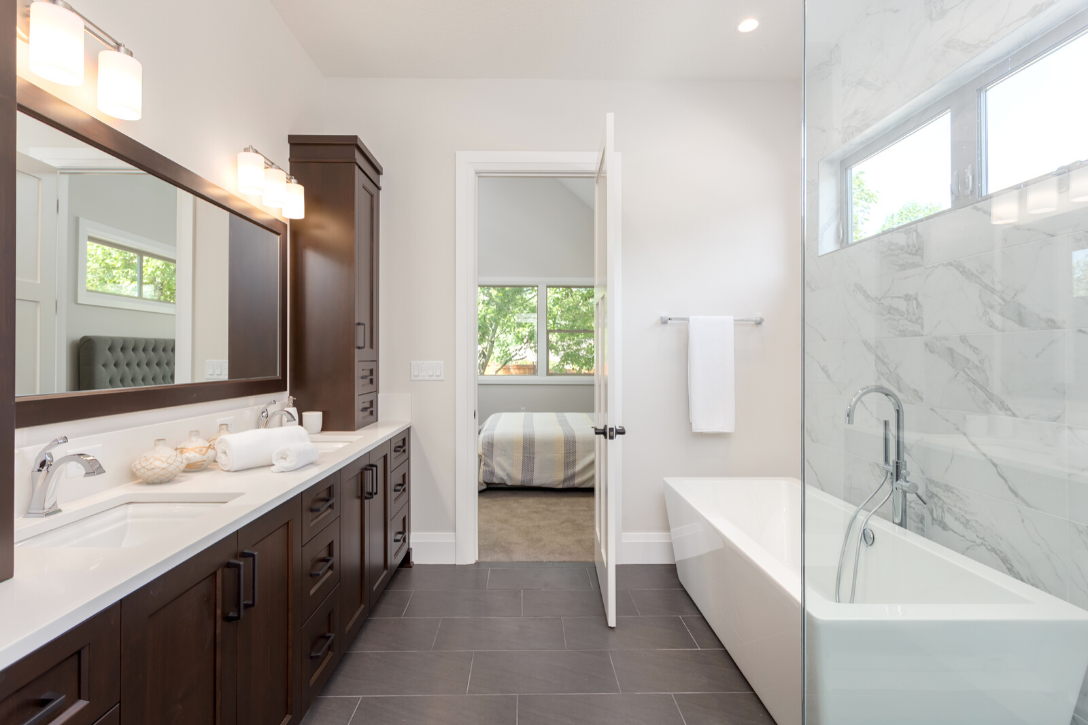 Handling Everything Else Your Bathroom Renovation Needs
While a separate tub and shower combo may be the centerpiece of your new bathroom, there are many other supporting elements that bring it all together. From the vanity, to the bathroom countertops, along with the cabinets, each of these areas is an opportunity to unfurl your sense of style.
At Choice Windows, Doors & More, our bathroom designers work to incorporate every element of your space into the overall character of the design. This can look like matching the hardware on your sink to the tub – or repeating the tiling of the sink backsplash into your shower – and countless other options. Designing and delivering a gorgeous bathroom that you'll enjoy every day for decades is our goal!
Check out project gallery for even more home inspiration!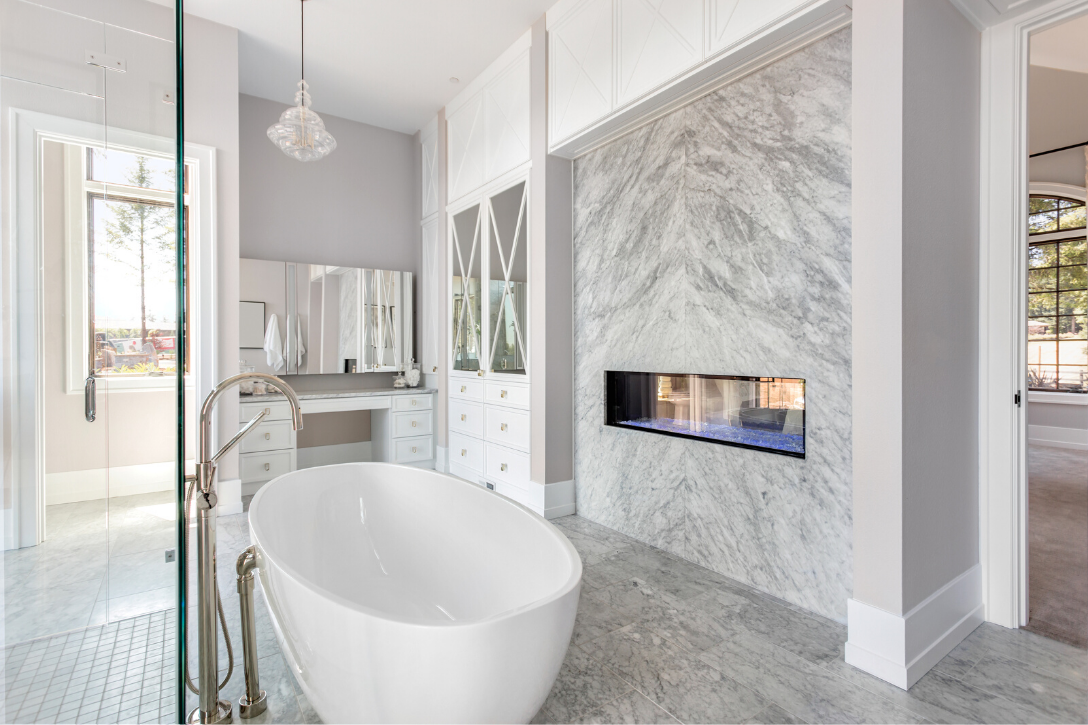 Get Quotes on a Separate Tub and Shower Combo
Creating the master bathroom of your dreams is a creative collaboration between you and our design team. All of our projects begin with a free design consultation in which you work with our designers to envision your space. During the conversation, we'll discuss materials, styles, other projects you love, and your ideal separate tub and shower combo – as well as your budget.
Whether you want to have that consultation in your home or at our inspiration center, we'd love to talk. Reach out today to schedule a no-obligation session with one of our expert designers!
Share This: