2021 Kitchen Design Trends that Will Stand the Test of Time
Oftentimes, we fall in love with the hot trends we see on HGTV or Pinterest, but they end up impractical for a kitchen getting every day use. We get that. At Choice Remodeling, we work with you to take inspiration from these top trends and work with you to help translate those into timeless designs tailored real people and real lifestyles. After all, we want to ensure you'll love using your space for decades, regardless of how trends change over the years.
In this blog, we're showcasing some of the 2021 kitchen design trends that are making headlines but will hold their relevance years from now. Discover these new kitchen design ideas that are equal parts striking and practical.
Explore a Few of Our Favorite New Kitchen Design Ideas
From luxury materials, to ever-popular color choices and commonsense upgrades, the very best design elements will never fade. These are a few of our favorite new kitchen ideas that are going to be big in 2021 – yet will never look outdated:
Supersized Islands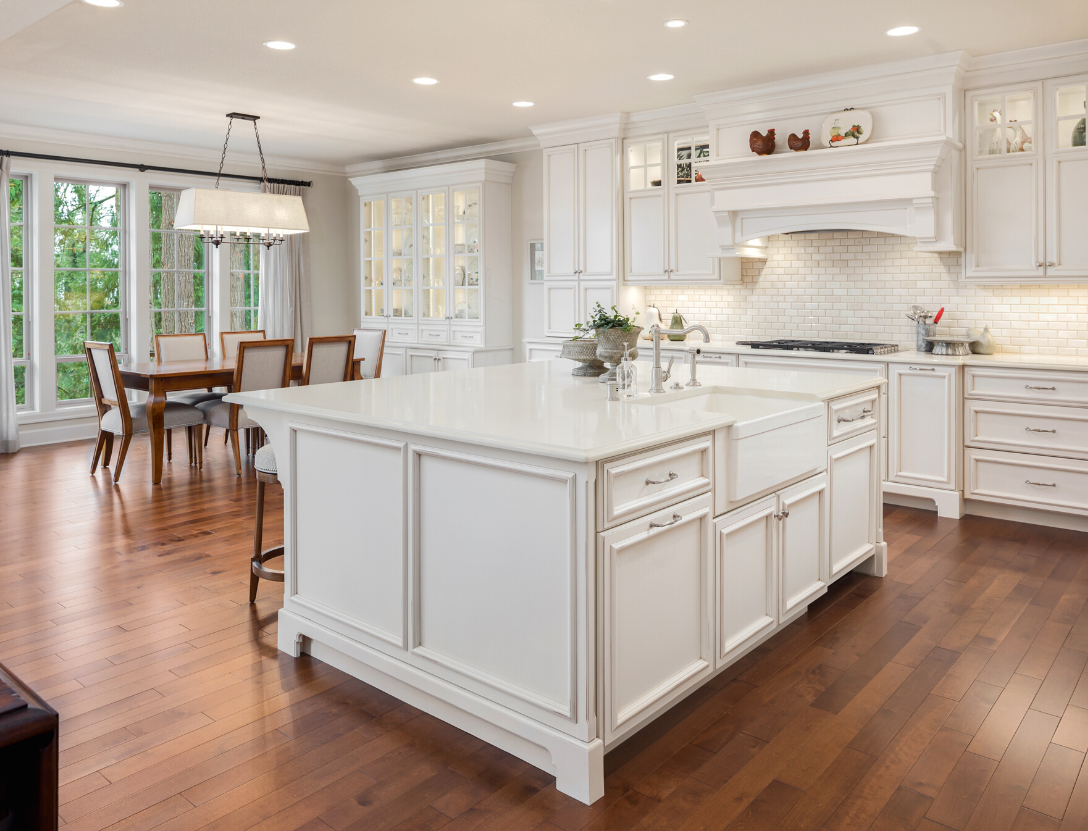 Islands are a favorite part of countless kitchen renovations, so it only makes sense to maximize their impact. This kitchen design trend doubles down by either featuring two islands in the right kitchen, or an extra long or extra wide island. This added island space can be ideal for everything from food prep to entertaining. If your space has the room to accommodate it, this is a touch you'll always appreciate.
Classic Cabinet Colors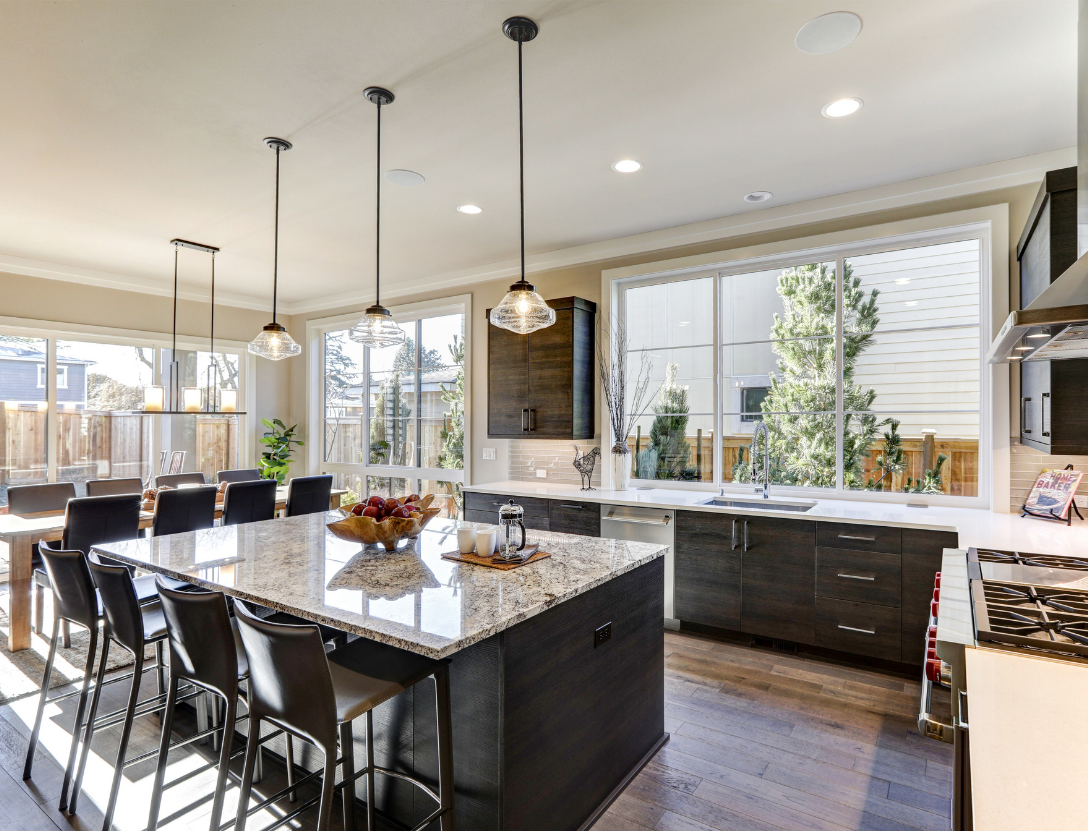 Cabinet colors are one of the kitchen styles that change the most frequently – and sometimes the most drastically. That's why we recommend going with classic colors that never really fall out of favor. For painted cabinets, we recommend white, neutrals, or black if you want to play it on the safe and consistent side. These choices are exciting but not as intimidating as brighter colors. For stained cabinets, choose a more neutral tone like a light brown with neutral undertones to keep the look classic.
Bold Countertops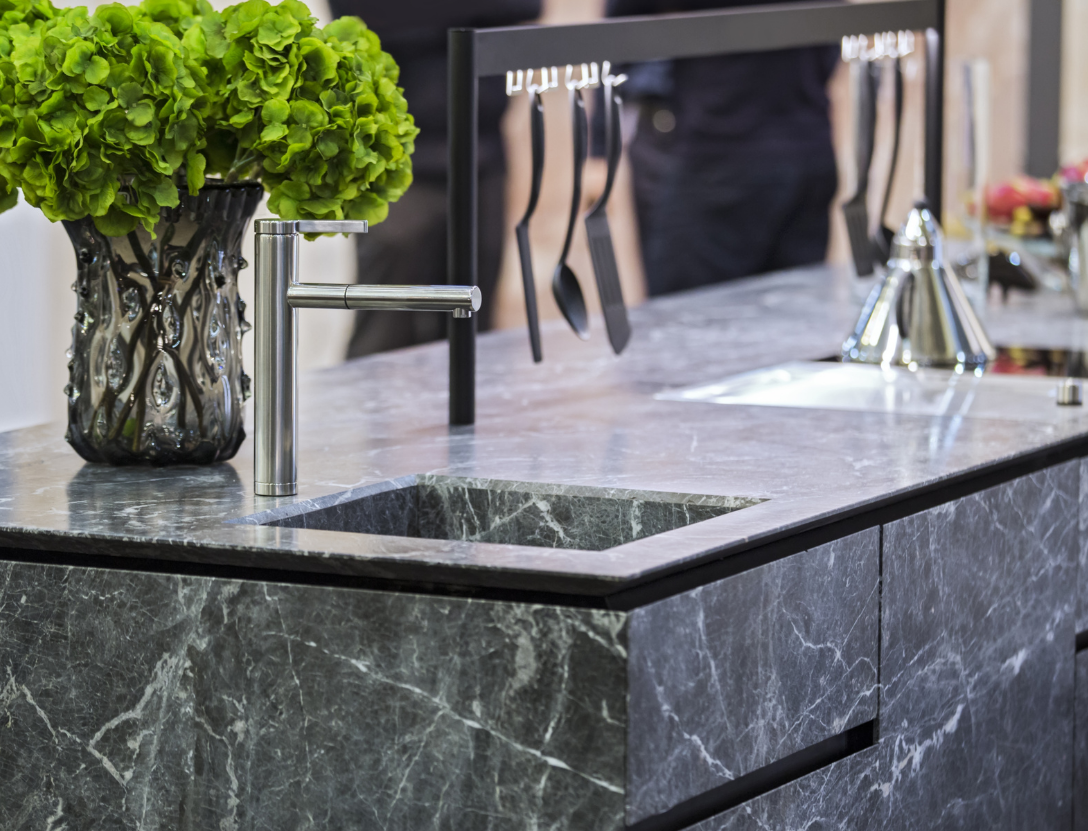 Going hand-in-hand with the previous new kitchen design idea, homeowners are choosing to use the pattern of their countertop to make their color statement. Both quartz and granite countertops are available with bold pattern options. While this touch of colorful character won't be ignored, it is a safer commitment than hyper-colorful cabinetry.
Explore some of our favorite countertop patterns for kitchens and bathrooms.
Include a Customized Pantry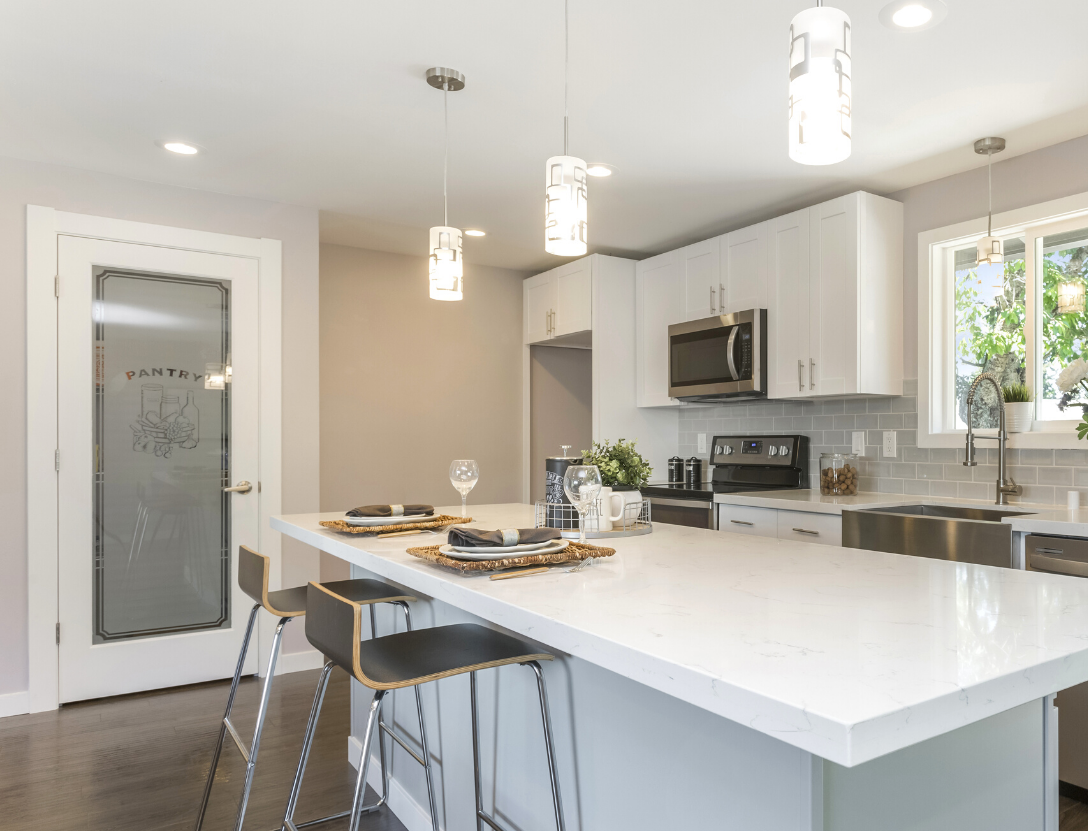 This kitchen idea is less about showing off your personal style and more about getting organized in a way that's personalized to you. While pantries aren't a fixture in new home builds the way they used to be, they are becoming an in-demand add-on for a kitchen renovation. This is the kind of upgrade that you'll appreciate every day.
Exposed Range Hoods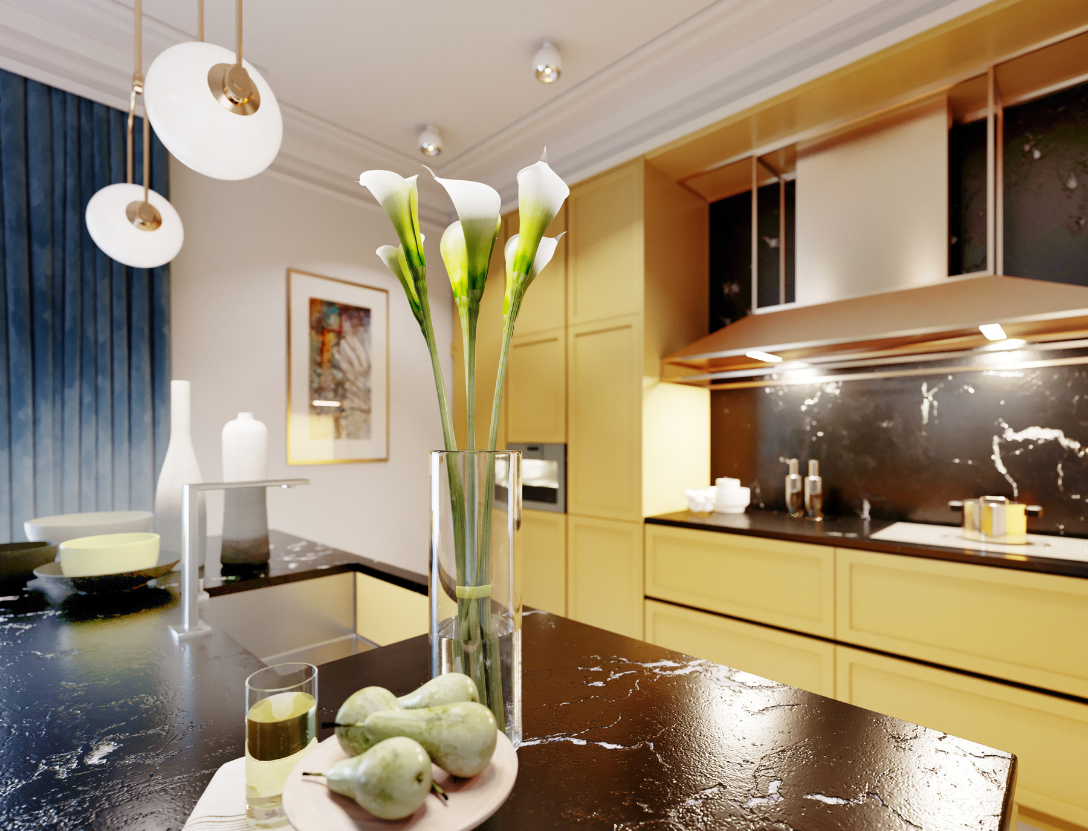 This 2021 kitchen design trend is a holdover from previous years, but it still deserves a spot on our list. Firstly, these large range hoods provide superior air filtering that both amateur chefs and kitchen pros are sure to appreciate. In addition to that practical plus, this add-on brings a striking  accent that naturally catches the eye. Expect to see this in a wide variety of different kitchen styles for a long time to come.
Unique Appliances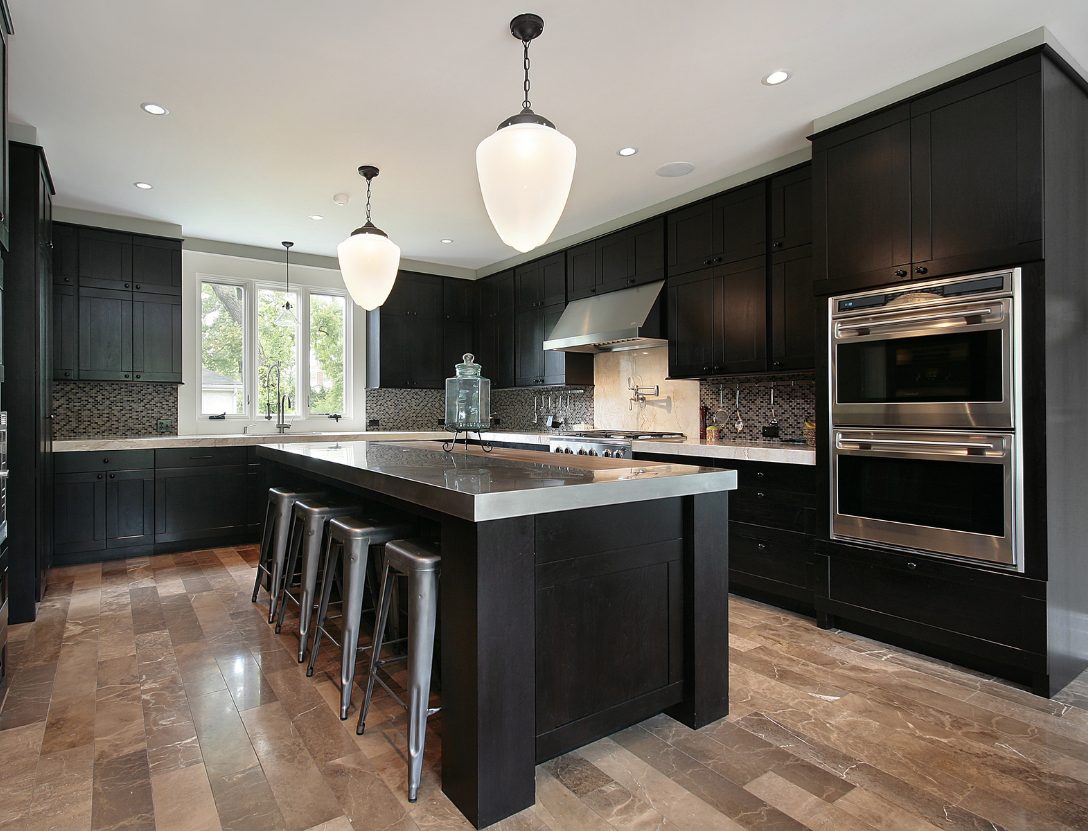 As gorgeous, trendy, and jaw-dropping as your kitchen is, it ultimately has a job to do – help you cook. That's why the final new kitchen design idea we expect to see more is unique appliances. This includes upgrades like, a double oven for holiday baking, high end and colorful ranges, and anything else that makes cooking what you love more convenient.
Kitchen Remodeling with Options
When you work with Choice Remodeling for a kitchen redesign, you have options. Not only will we show you countless new kitchen design ideas to spark your imagination, but we give you a range of choices in how we build it, too. When it comes to cabinets, we offer an array of options from semi-custom cabinets to luxury custom cabinets. For countertops, our team gets you access to huge ranges of quartz and granite colors and patterns. All of these options ensure that you have some budget flexibility while getting an absolutely dream-come-true kitchen!
Bring Your Favorite Kitchen Design Trends Home
Every single custom kitchen we've ever built began the same way: a conversation between homeowner and our skilled design team. If you're interested in taking the next steps with Choice Home Remodeling, we're here to talk. We encourage you to reach out to our designers to discuss your dream kitchen, your favorite kitchen design trends, and your budget. Whether you want to discuss the project over the phone, visit our showroom for some inspiration, or bring us into your home, we'd love to talk!
Contact us today to get started!
Share This: