Spring Cleaning: Exterior
Spring is finally here! Which also means it is time to spring clean our homes. Although spring cleaning is often a dreaded task, it is necessary in order to maintain your home. Below are a few tips for cleaning the exterior of your home.
Tips
Windows
To clean your windows, fill a bucket with warm soapy water. Wet the window. Using a squeegee, start in a top corner and wipe from top to bottom. Repeat & overlap your strokes until the entire window has been washed. Wipe the windowsills with a clean cloth when finished. For large windows, move your squeegee back and forth in a zigzag motion to prevent streaking.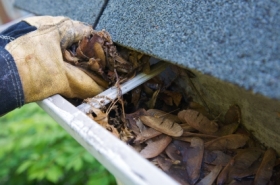 Gutters
You will want to clean out the debris that has accumulated over the fall and winter. Using a cup or scoop, clean out the debris from the gutter. Be sure that your ladder is sturdy and, if possible, ask a friend to spot you. Also, make sure the gutters are secured tightly to your home and that the downspouts are pointed away from the foundation.
Roof
Stand at a distance and look at the roof to see if there are any loose or missing shingles. If so, give us a call to discuss repairing your roof!
Vinyl Siding
To clean your vinyl siding, mix four gallons of water and 1/4 cup dish soap in a large bucket. Start at the top of the siding and work your way down. Hose off a section of siding to remove loose particles and then scrub the siding with your wet brush. Rinse off the soapy water before it dries. For mold & mildew spots, clean the siding with Windex or Fantastic. For tough stains, use a 30% vinegar and 70% water solution.
Garage Door
Wash the garage door with warm soapy water and then spray off with a pressure washer.
Deck
Pressure wash the deck with medium pressure. Be sure to keep the spray moving; resting in one spot for too long can damage the surface.
As always, if you need any help with your spring projects, please give us a call today at 717-354-2003. Happy Spring!
Share This: