Low-Cost Designs for High Impact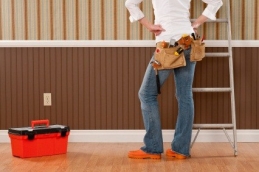 When you want to give the interior of your home a face lift, but you don't want to spend a lot of money in the process, consider the impact you can make with wainscot paneling and molding, two simple decorating tricks that help you get the look you want.
Wainscoting is decorative paneling that comes in a solid sheet of wood or wood composites. Wainscot panels are available in several styles such as raised or recessed panel, beadboard, and board and batten. This type of paneling is popular among homeowners on a budget because it is fairly inexpensive and easy to install.
This versatile paneling can be used anywhere in a home from covering large wall surfaces to upgrading run down furniture. And depending on the material of your wainscot, you can paint, stain, pickle or whitewash it to match any style. For example, prime then paint wainscot paneling in a kitchen white or bright yellow to create a cheerful and welcoming atmosphere. Or paint/stain the paneling a rich tone for a warm and cozy feel in a den or family room.
Molding (or trim) is also available in many options: baseboard, wall trim and crown molding to name a few. Like paneling, you can get molding made from different materials, such as wood, wood composite and even plastic polymer. Use the different types of trim in rooms for a "finished" look and pick styles that will change your décor to anything from a cottage look to a more upscale appearance.
There are countless budget-friendly ways to give your home a fresh, updated look with decorative paneling and molding, here a few ideas to get you started:
Paneling
Update your kitchen or bathroom with a beadboard backsplash.
Use vertically on walls, along with molding, for a chair rail.
Extend higher up a wall to create height in smaller rooms, like bathrooms.
Run horizontally in narrow, high-ceiling rooms to create the appearance of a wider space.
Dress up cabinetry by installing on cabinet door panels.
Adhere to ceilings to cover imperfections and visually add warmth to a room.
Install on the inside of shelving units for a textured accent.
 Molding
Use chair rail molding to divide your walls horizontally; paint complementary colors above and below the molding or use beadboard below the chair rail.
Add crown molding where your wall and ceiling meet. This gives it a completed look and also brings your attention to the top of the wall, creating the illusion of height.
Make existing trim bigger by add a small molding just below your crown molding or above/below baseboard (adding it below will require carefully removing the baseboard first).
Use trim on cabinetry and furniture, for example, add to the top and bottom of an inexpensive shelving unit to give it a finished look.
Separate rooms by adding molding to wall corners and crown molding to the wall/ceiling seam. Paint rooms different colors.
Frame mirrors with different styles of molding.
Mount on walls as a shelf for collectibles and other lightweight items.
Have fun with these decorating tips and let us know if you have any other creative ways to upgrade your home's decor with paneling and trim.
Share This: