10 Quick Tips About Basement Remodeling You Need To Know
Is your basement dark, dank, or outdated? Would you like to transform it from an unused storage area into a fresh, versatile space you can use for virtually anything?
If you're ready to turn your drab and dreary basement into the functional and versatile space you've always imagined, here are 10 tips to help you get the most enjoyment and bang for the buck:

Add A Bedroom & Bath

Not only will an extra full or half bath and basement bedroom make a perfect suite for in-laws, guests, and growing teens, but they'll boost the value of your home more than any other basement remodeling project. Best of all, basement bed and bath remodels cost much less than removing exterior walls with a home addition.
When planning a basement bedroom and bathroom remodel, think about light and outdoor access. Since building codes require basement bedrooms to have direct outdoor access, a door or window is a must. Plus, glass doors or windows will add more light to the naturally dark space.

Consider Functionality

Mini kitchens and wet bars are ideal basement home improvement projects. Not only do they make entertaining a breeze, but when added alongside an extra bedroom and bathroom, you'll have a complete basement guest suite.
A laundry room is also a good idea. Since you'll already have the basement plumbed for the bathroom remodel, if you choose to put one in, both options will be easier to include and less expensive than you may think.

Create a Rec Room or Relaxing Family Room

Basements are perfect for relaxing with the friends and family. From big screen TVs and gaming consoles to pool tables and board games, a basement is an ideal place for all of these activities and more.
To make the space as comfortable and inviting as possible, add drywall and finishes similar to the upstairs. Comfortable furniture, can lighting, sound systems, and more can all be included to transform your once dark and dingy basement into the perfect spot for relaxation, fun, and quality time.Don't Forget the Windows and Doors

Don't Forget the Windows and Doors

When it comes to basement remodeling, adding, widening, or replacing windows and doors can make a huge impact. That being said, while installing new windows isn't as difficult and nerve-wracking as installing a home addition, it's a job best left to professionals.
In nearly all instances, window wells must be dug and retaining walls need to be built. If you plan on creating a walk-out basement, which will increase the value and livability of the space two-fold, even more excavation must be done.

Build a Sturdy and Appealing Staircase

When remodeling your basement, start with the first thing you see when you open the basement door – the stairs. You already have basement stairs, but are they sturdy and appealing? Do they invite you into the space or make you want to turn right back around?
As is the case with many home improvement projects, it's important to make sure the basement stairs are up to code. It's also a good idea to consult with professionals like Choice Windows, Doors & More, Inc. to design and construct the best possible staircase for your home, your style, and your space.

Include Built-Ins

For many, the basement is nothing more than a catchall space to store holiday decorations, lawn equipment, and everything else that won't fit in the garage or upstairs closet. So, when remodeling your basement, maximize its square footage by including built-in storage spaces too.
From built-in entertainment centers and the space underneath the stairs to glass etched doors for storage separation and an architectural flare, there are countless ways to incorporate storage into your basement remodel.

Finish the Ceiling

For basement remodels, there are three basic options to choose from:

Exposed Ceiling
Drop Ceiling
Drywall or paneling

However, since drop ceilings give an undeniable office feel and exposed ceilings only work for New York lofts, you'll definitely want to conceal the pipes, ductwork, and joists with drywall or wood paneling of some kind.

Liven Up the walls

Basement walls are generally constructed of concrete block or poured concrete. To give your basement some main floor style, cover its concrete walls with drywall or veneer plywood. Add a little wainscoting or boards to cover the seams and you'll have the perfect inviting walls for your transformed space.

Light It Up

Lighting is vital for every basement. While large windows and glass exterior doors can add quite a bit of sunlight to a gloomy basement, recessed can lights are highly recommended. Pendants and track lights can also be added for accent and task lighting in areas for reading, work or play.Opt for Practical, Stylish, and Comfortable Flooring

Opt for Practical, Stylish, and Comfortable Flooring

Unless it already has a plywood subfloor, chances are your basement floor is nothing more than a concrete slab. While this isn't ideal for hardwood floors, every other flooring option will do. From stained concrete and tile to carpet and vinyl, there are plenty of choices to choose from for your basement remodel.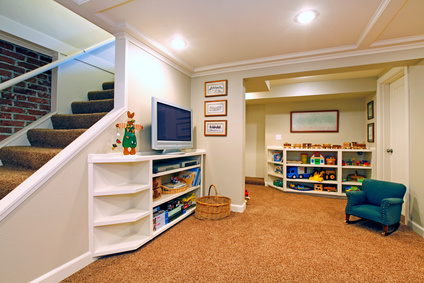 Final Thoughts
There's nothing like a wonderfully finished basement. In addition to boosting the livable square footage and value of any home, it also creates a spacious yet cozy environment for entertaining, relaxing, watching Sunday football, and countless other uses.
At Choice Windows, Doors, and More, we've helped dozens of clients throughout Lancaster, Berks, Chester, and York counties enjoy the basements of their dreams. We want to add your name to the list, so give us a call for a free consultation today!
Share This: