Awnings
Get More Use Out of Your Deck or Patio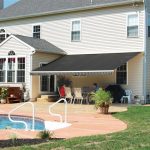 If you have a deck or patio, you probably wish you could use it more often. After all, the sun's powerful rays and glare make it uncomfortable to sit outside at certain times of the day. Creating shade with an awning is an efficient way to cool things off, allowing you to spend more time outdoors. Awnings will also help reduce your cooling costs by limiting the amount of sun that enters your home. We proudly carry high-quality awnings from Aristocrat, made locally in Souderton, Pennsylvania, including window awnings, patio awnings, door awnings and retractable awnings.
Is Your Backyard Too Hot?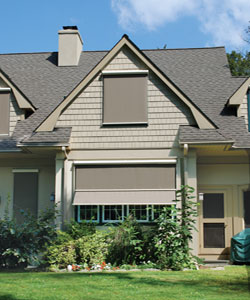 6 Reasons to Add an Awning to Your Home
Create shade, outside and inside!
Entertain guests in the cool, comfortable outdoors
Protect your family from harmful UV rays
Reduce the amount of sun entering your house
Lower your cooling costs
Prevent furniture from fading
Some facts about Aristocrat awnings
Aristocrat uses a tray that keeps the fabric taut when extended and eliminates the need for roller tube supports that can cause damage – an Aristocrat EXCLUSIVE.
Awnings can block harmful UV rays that cause skin cancer by 94%
Awnings can reduce indoor temperatures by 15 degrees
The most efficient way to shade your windows is from the outside – before the sun heats up the glass
Retractable canopies can shelter your outdoor entire dining area from rain and sun.
50% of the solar heat gain entering a room comes through the glass – accounting for about one fifth of the load on an air conditioner.
Aristocrat solar shade products can operate at the touch of a button – or with sun and wind sensors that control operation automatically!
Aristocrat products carry a limited lifetime warranty!
There are hundreds of awning fabrics to choose from – stripes, solids, tweeds, and weaves.
Aristocrat products are manufactured by Craft-Bilt Manufacturing Company, a leader in reliable, quality home products since 1946.
Awnings have advantages that contribute to more sustainable buildings.
Call us at 717. 354.2003 or contact us today for more information and a  free estimate.

We are an Authorized Dealer of Aristocrat Awnings,
Canopies and Solar Shades for homes and businesses